GOP Congressional Nod Up for Grabs After Rosen Leaves Race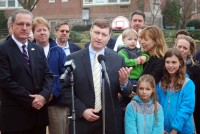 Larchmont businessman and retired Lieutenant Colonel Mark Rosen had planned for almost a year to run against Rep. Nita Lowey in the 18th Congressional District. He had been set to run in 2010, but had to leave the race when he was called to serve in Afghanistan. This election cycle, he was the early front-runner to take on the 12-term Democratic incumbent. But when the new congressional lines were drawn by a panel of judges, Rosen learned he no longer lived in the district in which he had planned to run.
Instead, he would be in the new 16th Congressional District comprised of southern Westchester and parts of the Bronx. His opponent, if he got the nomination, would be another longtime incumbent, Democrat Eliot Engel.
"I thought about the campaign with Ms. Lowey," Rosen said. "It's a different community. It's a hard message to reach out to that community."
Rosen briefly considered running in the 16th or running in the 17th from outside the district (which, though rare, is legal under the Constitution). He quickly decided neither move was tenable, and on Wednesday morning, standing outside the Murray Avenue School in Larchmont, officially bowed out of the race.
"It's with great disappointment, today, that I need to withdraw from this race," Rosen said.
In leaving the race, Rosen endorsed Rye Supervisor Joseph Carvin. Carvin, who days earlier had dropped his bid to run for the U.S. Senate, said his official announcement would come "sometime next week."
"Today is about Colonel Rosen and his family," Carvin said. "Mark's been sacrificing for our community and our country for a number of years. No more did we see a sacrifice than in 2010, when he was preparing to run for Congress but instead accepted an assignment in Afghanistan, away from his family, away from his home, with his life on the line to work alongside General [David] Petraeus."
Rosen's departure from the race opens the door for other Republican candidates to vie for the nomination, Westchester GOP Chair Doug Colety said.
"The silver lining to this is that there are a few candidates entering the race," said Colety. "Joe Carvin is very qualified, and we're very excited about him coming through the process. There are other names that are out there."
One such name is Anthony Melé, a Chestnut Ridge resident with a military background. Melé ran in the 17th Congressional District in 2010 against Engel and planned to do so again this year, until his home county of Rockland was moved completely into Lowey's district. Unlike Rosen, though, Melé doesn't mind running it a new district.
"If they redraw the districts on the moon, we'll adjust accordingly," Melé quipped. He noted that Lowey and Engel were both 24-year incumbent Democrats, calling them "Tweedle Dee and Tweedle Dum."
Another Rockland resident considering joining the race is Clarkstown Councilman Frank Borelli. Borelli, an insurance broker, said he expects to make a decision over the weekend.
Leaving the race was frustrating, Rosen said, because he believes "Ms. Lowey is incredibly beatable." Colety agreed, saying the seat is winnable.
Whether or not the race is winnable, it's an uphill battle for any Republican. Voter numbers show Democrats with an edge close to two-to-one in voter registration (around 177,000 to 99,000) and Lowey has consistently received well over 60 percent of the vote in past elections. The changes to the district may shift it slightly to the right, but most of the area she's inheriting is Rockland, which is just as Democratic as Westchester.
Lowey made her own re-election bid official last Monday, March 19, saying, "I am eager to introduce myself to community leaders and residents throughout the district, share my record of accomplishment for our community, and earn your vote."
In 2010, in a year that saw the GOP gain 63 House seats, the 19th Congressional District was never in doubt as the Republican candidate, Jim Russell, was discovered to have published a controversial essay in 2001 that some saw as racist. The party pulled its support for Russell, who received just 38 percent of the vote.
On Tuesday, the Westchester and Rockland Republicans will hold a joint convention at the Clarkstown Town Hall in New City to endorse a candidate.