Golden Doodle Therapy Dog Joins Staff at Funeral Home
We are part of The Trust Project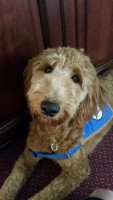 Matt Fiorillo, President and CEO of Ballard-Durand Funeral and Cremation Services is very excited about the newest member of his staff. Her name is Lulu. She is a Golden Doodle, a trained and certified therapy dog, and the first funeral therapy dog to be working in Westchester County.
"Lulu is an amazing animal," Fiorillo said in a recent interview. "Not only is she very intelligent, she is highly intuitive."
The breed mix is Golden Retriever with Standard Poodle. She comes to White Plains via Florida where she was trained to be a therapy dog and follows the lead of service dogs often used in health care settings such as hospitals and nursing homes and for people suffering from Post Traumatic Stress Disorder. The result is a charming "comfort companion" who graces the Ballard-Durand Funeral Home in White Plains and offers families the unconditional love that only "Man's Best Friend" can give.
"The human need for touch can be simply obtained by stroking her head with your hand," Fiorillo explained. "She seems to know exactly who she can approach and offers herself to be petted."
Lulu has been at Ballard Durand for about three months. She has a subtle presence, there if you request her services, gentle with strangers and children. Lulu's post is in the main hallway of the home where she greets visitors, although she is allowed to wander. There are little jars of treats in several areas to engage her.
Fiorillo said he got the idea to add a therapy dog to the funeral home two years ago when he was stuck at the airport trying to get back to New York from Florida.
"Flights were delayed. Flights were cancelled. Everyone was in a horrible mood and then a woman walks by with a Maltese and everyone wanted to pet the dog. It had a calming affect on the whole crowd."
"I also noticed that when the tragic shootings occurred in Newtown, Conn. therapy dogs converged on the city," Fiorillo added.
Lulu is shorthaired and hypo allergenic – important to Fiorillo for both her work at the funeral home but also at home with the family.
"I wanted to get a family dog said Fiorillo. The fact that I get to bring her to work every day is an added bonus. She had training to be a service dog for a year and now I am her official handler. We've become partners."
To view a short video about Lulu visit: https://www.youtube.com/watch?v=g7Rw3G5X_Y4. Ballard-Durand Funeral Home is located at 2 Maple Ave., White Plains; 914-949-0566.