Gloves Off in Battle for Putnam Sheriff 's Office
We are part of The Trust Project
By Anna Young and David Propper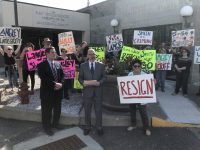 With Election Day less than a month away, the rhetoric in the race for Putnam County sheriff has been ratcheted up as Democrat Robert Langley tries to knock off incumbent Republican Don Smith.
Langley held a press conference Thursday morning taking aim at Sheriff Smith's actions toward former district attorney Adam Levy. Surrounded by supporters outside the county Sheriff's Department, the Democratic candidate said that the sheriff's office is broken under Smith's leadership asserting that the longtime sheriff should resign immediately. Smith has served as sheriff since 2002.
"This year, Smith gave a written confession of the lies he told about the district attorney," Langley said. "Because of Smith's lies, the citizens of Putnam County were forced to pay a civil lawsuit settlement of $125,000. We paid for Smith's lies. And we will pay millions more in another lawsuit because Smith lied."
After Levy settled his 2013 defamation lawsuit against Smith in June, Smith admitted in a public letter that he was untruthful when he claimed Levy interfered in the Alexadru Hossu rape case and Hossu resided at Levy's house in Southeast. Levy received $125,000 from the county and another $25,000 personally from Smith.
Hossu, the former personal trainer of Levy, is also suing the sheriff's office for civil rights violations after his 2013 arrest--where he was later found innocent–that left him sitting in jail for a year.
Smith also came under fire last week after a LoHud investigation revealed that Smith, over several months, sent letters to the FBI, U.S. Attorney's Office, U.S. Department of Homeland Security, state Attorney General Eric Schneiderman and Gov. Andrew Cuomo pleading they investigate and arrest Levy for unethical behavior and harboring an illegal immigrant.
"These letters were all based on what Smith now admits were lies," Langley said. "As a West Point Cadet, Smith swore an oath that he would not 'lie, cheat, steal, or tolerate those who do'; Smith has violated that oath, over, and over, and over again."
He argued that Smith, who is running for re-election, has grotesquely abused his power as Sheriff.
"If Smith is willing to lie to arrest a sitting district attorney, he is willing to lie to arrest you or me," Langley said.
When reached for comment, Smith didn't back down. He said his focus has remained on keeping the county safe.
"This is a manufactured effort to create a controversy where none exists. My opponent, without first hand knowledge, can make assumptions, conclusions, and innuendos that are plain and simple just not true and he doesn't have to make corrections to his statements," Smith said in a statement. "Each and every day I strive to provide the truth and if I later learn new information, I make the correction. My opponent wants to divert attention from the fact that I have provided leadership that has helped keep Putnam, the county with the lowest crime rate in New York State, for the past several years."
Residents, who surrounded Langley with signs saying, "Smith is a criminal," and, "Langley returning integrity," expressed their anger with Smith's conduct stating that it's time for a change.
Cold Spring resident Candace Cole said she is outraged that taxpayers are paying for the unethical actions of an elected official, stating that he should dip into his retirement fund to cover his own legal fees. Mahopac resident Baila Lemonik even referred to Smith as a "felon" even though Smith has never been charged or convicted of anything.
"It makes me nervous to have a sheriff who was not telling the truth and would lie under oath," Lemonik alleged.
While several criticized Smith's actions, supporters praised the retired county sheriff's investigator for the integrity he will bring to department if elected.
"I believe that he believes in the spirit of the law and ethics," said Cold Spring resident Eileen Caulfield, who applauded Langley on the work he's done combating the opioid crisis. "I think that with so many dirty politicians, he's a breath of fresh air."