Glass Onion's Jaros to Be Honored as P'ville's Business Person of the Year
We are part of The Trust Project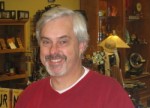 By Janine Bowen
Glass Onion Originals owner Matt Jaros has been named the Business Person of the Year by the Pleasantville Chamber of Commerce.
Jaros, who will be honored by the chamber on Apr. 23, opened the gallery gift shop in 2004 with his wife, Emily Wong. He has watched the business expand from a small location on Manville Road to a thriving shop at 4 Washington Ave. that brings unique and handcrafted merchandise from across the country to local residents.
"It's an honor. To be voted on by your colleagues and fellow business people, it's very special. It's probably the nicest honor of my whole career, actually," Jaros said.
The goal at Glass Onion is to give customers a chance to buy merchandise they may not find elsewhere. Jaros noted that there is something special about handmade items because of the great care each artist brings to his or her work.
"One of the goals, by having artisan-driven merchandise, is to create an experience for someone when they come in the store, so you leave like you just saw something beautiful or fantastic,'' Jaros said.
The friendly and welcoming atmosphere for Glass Onion's patrons contributes to customer satisfaction, he said. Jaros and his staff do their best to help every person who walks into the shop find a perfect gift in their price range. The store also offers shipping and free gift wrapping.
Jaros said he is proud to accept the chamber's honor, noting that the award symbolizes how the community respects and appreciates the business. Community is critical to Glass Onion Originals, as Jaros and Wong support a wide variety of local organizations, including PCTV, Girl Scouts and the Jacob Burns Film Center.
"The community is our customer, and it's important to support the people who support us,'' he explained.
The Pleasantville Chamber of Commerce reception will be held on Apr. 23 from 6 to 8:30 p.m. at Trattoria 160, located at 160 Marble Ave. For more information about the dinner or to make a reservation, visit www.pleasantvillechamber.com.