Girls' Lax Notebook: Defending Champ Yorktown, Runner-up Somers to Clash Again
We are part of The Trust Project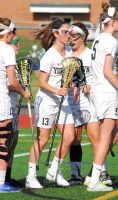 By Tony Pinciaro  
YORKTOWN enters the 2017 varsity girls' lacrosse season seeking to complete unfinished business.
The Cornhuskers won the Section 1 Class B title, dethroning two-time champion and nemesis, Somers, in the final. Yorktown then marched through the state championships, with wins over Monroe-Woodbury, Niskayuna and Watertown, before a loss to Garden City in the state title game.
While numerous teams and programs would be left empty by the graduation of seven starters, Yorktown, 17-6 last year, has the talent to overcome this.
The Cornhuskers return three seniors who will play Division I lacrosse in 2018 and two juniors who have verbally committed to Division I schools.
Rilea Fusco, who will attend Syracuse, is back at attack after leading Yorktown with 55 assists and 88 points last year. Midfielder Michelle Seger, who will matriculate to Boston University, returns after a team-best 47 goals and she finished with 65 points. Carli Mager, who will head to Ohio State, returns to spearhead the defense.
Juniors and midfielders Ciara Frawley (Cornell) and Ellen O'Callahan (Penn) reunite with Seger.
The seven graduate's means there are opportunities for underclassmen to step in and assert themselves. Yorktown coach Ellen Mager, now in her 14th year as coach and 20th with the program, has a talented group of newcomers to the team.
Senior Emily Hirsch, who will attend Skidmore and play lacrosse, and junior Caroline Garti add depth to the midfield and Caroline Keenaghan and McKenna Duff do the same to attack. Senior Lexi Delbene and junior Olivia DeCicco are the new goalies.
Mager has a challenging schedule, one that will have Yorktown ready for sectionals.
"We really like this team and hope they will continue to work hard and support one another as the season progresses," Mager said. "The leagues have changed for this year and we know Fox Lane in our league will be a very difficult opponent. Our crossovers are all against top Class A teams (Scarsdale, Mahopac, and North Rockland) and outside of our league in the section we will also be playing Suffern and Bronxville.
"We have the most challenging out-of-section slate we've had in several years (Darien (Ct.), Walton, GA (defending state champs), Guilderland, Farmingdale, Pittsford and New Canaan). We hope that our team will rise to the challenge of competing in such a challenging schedule so that we will be prepared when sectionals start in mid May."
SOMERS has had an outstanding three-year run under seventh-year coach Jaime Irving-Pryschlak.
The Tuskers won Section 1 Class B titles in 2014 and '15 and advanced to the state final four in 2015. Last year, Somers' had its two-year title-run ended by Yorktown, the team the Tuskers beat in the 2014 and '15 sectional finals. It was Somers' only loss (18-1).
Somers graduated six starters, including one half of the high-scoring Rosenzweig sisters – Gabby. However, Loyola-bound Livy, a senior and 2016 all-American, returns, as well as her classmates, Jess Monaco (goalie), Mary Murphy (defense) and Hannah Tiso (midfield). In all, there are 12 seniors on the roster for Irving-Pryschlak.
"We have a lot of experience and leadership to help our team to success," said Irving-Pryschlak, an All-Section standout for Lakeland/Panas during her scholastic days. "I am excited and eager to get the season started.  I am fortunate to coach a group of girls that are eager to learn and improve each day. They support and push each other to be the best players they can be. I believe that the sky is the limit with this team. Our veteran players combined with leadership will help really help to push this team day in and day out."
Somers, like many other teams in Section 1, returned to realigned leagues with some unfamiliar opponents. However, Irving and her girls are psyched for the challenge.
"Due to the league changes and addition of a new class our schedule is different this year," Irving-Pryschlak said. "We have a competitive league and schedule this season so each game will be a different challenge, but some new opponents we play this season are Suffern, North Rockland and Albertus Magnus. Our focus is to take it game by game as there is not just one game on our schedule more important than any other one."
LAKELAND/PANAS now has one year under its collective belts playing for Coach Rebecca DiSisto and now the Rebels look to raise their level for the former Rebel.
The Rebels went 12-6 in DiSisto's inaugural year, however, they ran into archrival Suffern in the second round and the Mounties were not kind. Add to it five seniors going to college and the Rebels find themselves with some spots to fill while competing in Class B this season with the likes of Yorktown and Somers.
One thing DiSisto will never have to worry about is the fact there the Rebels are always a talented team and this will bear out in 2017, plus the wisdom of veteran co-Coach Sharon Sarsen.
The Rebels will be led by seniors Carlyn Mucci (midfield), a 2016 all-section selection who had 61 goals and 14 assists, and Mia Lennon (defense). Junior Kelsey McCrudden (midfield) is back after collecting 25 goals and 23 assists last year. Sophomore Emily Kness (attack/midfield) notched 20 goals and 10 assists as a freshman.
Speaking of freshmen, DiSisto has elevated a trio of them — Raquel Nieves (midfield), Jenna McCrudden (attack) and Megan Mucci (attack).
DiSisto was once in this position when she was a freshman at Lakeland. Lakeland varsity field hockey coach promoted DiSisto, as well as fellow freshmen Melissa Gonzalez, Kara Connolly and Amy Voelkel to varsity. The four freshmen were important members of Lakeland's 2003 state-title-winning field hockey team which featured two seniors – Andi Coiro and Danielle Fiore.
DiSisto said her team is young, but ready to go.
"This year's team is energetic and truly has a passion to work hard and play well," DiSisto said. "We are a young team, but make up for it with our athleticism and competitiveness. I am very excited to be coaching this squad and can't wait to see the strides we make."
BREWSTER has high hopes. Sara DiDio was coaching the girls' youth lacrosse program in Brewster and last year, she became the varsity coach.
DiDio's Class B Bears went on to an 11-7 season, including a first-round win. The girls adapted to her immediately as many of them played for her in the youth program.
Senior Dana Lestrange (defense), junior Lauren Craft (midfield) and sophomore Meagan Beal (midfield) highlight the returning core. Craft led the team in scoring last year with 50 goals and 20 assists and Beal netted 28 goals and had 11 assists.
Craft and Beal will be called on to score because Taylor Doria and Mary Kate Lonegan graduated, as did the defensive duo of Kathleen Regan and Ailish Erickson.
Freshman Danielle Heintz is one of a promising group of newcomers to varsity.
"We welcome some new players that will hopefully step up this year and make an impact on the defensive end of the field," DiDio said.
Even though Brewster will have an influx of new players this year, DiDio knows familiarity will not be a problem.
"Our biggest strength is our team chemistry," DiDio said. "Most of these girls started playing together in third grade and I have had the opportunity to coach them through their youth and now high school careers. They know each other's strengths and weaknesses and what they need to do to be successful on the field.
"We are all very excited about this season and what's to come. I'm looking to Dana Lestrange to help lead us on the defensive end of the field and Lauren Craft, to set the pace for us offensively.
"We have an amazing group of girls who all make each other better players and we are hoping that translates onto the field during games. We have a difficult league with Somers, Lakeland/Panas, and John Jay, but I think they will be exciting games that could go either way."
MAHOPAC advanced to the Section 1 Class A semifinals last year, losing to eventual champion North Rockland.
Coach Jim Lieto returns a deep, talented and experienced group that is primed to make a run at the sectional title. However, Mahopac will do so without senior Kim Schiera (midfield), who sustained a season-ending knee injury during basketball season.
Briana Corace is one of 11 senior returnees for the Indians. Corace, who will attend Mercy and play lacrosse, had 45 goals and was an All-Section selection last year. Corace will be joined by classmate Kristen Maxwell, who has committed to Delaware. The attack will be led by seniors Diana Good, who had 24 goals and 22 assists last year, and Gabby Light, who registered 31 goals last year. Seniors Jen Laga (defense) and Emily O'Shea (goalie) will headline the defense. Junior Morgan Kirby and slick sophomore Katie McDonough are back at midfield.
The new varsity players include a quartet of seniors – Nicole Demealo and Ally Reilly on defense and Marella Verde and Hope Mantovi on attack. The junior contingent is comprised of Caroline Raymond (attack), Siobhan Hynes (defense), Hannah Lieto (defense), Francesca Mangione (defense) and Natalie Scanlon (midfield).
An experienced returning nucleus combined with a promising new group of players joining varsity has Lieto excited about 2017.
"The strength of our team is our experience and our senior leadership," said Lieto, now in his seventh season. "They all know our system and have worked hard all off season to be ready to go this season. The hope is that they will all be varsity ready and we will get a jump start on the season.
"The team goals are to compete for the sectional championship. Five girls on the team are all that is left of the team that made the sectional championship two years ago and as seniors they are looking to lead the team back to the championship. Although we have had limited field time the first two weeks, practices have been focused and intense. We have won the league championship the last two years and we are setting our sites on repeating that feat again this year."
HENDRICK HUDSON and OSSINING both welcome new coaches as Rob Molfetta begins his first season with the Class C Sailors and Patrick Wheeler, a long-time assistant to former coach Dan Ricci, will lead the Class A Pride.
Molfetta inherits a team that had one of the finest seasons in program history as Hen Hud went 12-6 and advanced to the Section 1 Class B championship quarterfinals where it lost to Albertus Magnus.
Hen Hud graduated four impact starters — Montana Garrett, Katie Luposello, Jenna Richardson and Anna Rizzo – but Molfetta has a Division I goalie back to anchor the defense.
Mackenzie Porter is back and has verbally committed to attend Rutgers and play lacrosse. Porter will be joined on defense by returning starters Mel Porras and Randi Blitzer.
The attack is loaded with Katy Kenny, Kam Sherman, Gabbi Blitzer and Rachel Palka all back. Sherman and Kenny were members of the varsity girls' basketball team that had an excellent season and was seeded third in sectionals.
Molfetta said he has a group of underclassmen who will be competing for playing time.
"I like the way we have been practicing hard every day and working to improve on the success that Coach Honovich had in previous years," said Molfetta of prior coach, Cassandra Honovich. "We will have three good tests to start the season as we go against perennial Section 1 powers John Jay-Cross River, Somers and Pearl River, which will hopefully get us ready for the rest of the season."
Ossining will make a smooth transition to its new coach because the players are very familiar with Wheeler. In past years, Wheeler ran the team until Ricci and the girls' basketball team was either competing in or winning state championships.
The Pride were 5-12 last year and were defeated a first-round sectional game. Along with that, four starters received their diplomas last June. Despite their graduation, Wheeler has a trio of seniors to lead the way in midfielders Gabriela Rama and Natalie Pelaez and goalie Molly Haag.
Ossining also returns junior Kelsey Quain (defense) and sophomore Jaida Strippoli (attack). The duo were integral members of the girls' basketball team that played for a state championship.
Wheeler likes what he has seen from his newcomers to varsity, including the freshmen threesome of Brooke Weeks (attack/midfield), Julia Iorio (attack/midfield) and Kylee Taxiera (goalie).
"After losing four players to graduation, we return players with varsity experience and we hope to be competitive within our league schedule," Wheeler said.
Courtney Hyndman begins her second year at PUTNAM VALLEY after a 6-12 record in 2016.
The Class D Tigers qualified for sectionals, but lost a first-round game to eventual sectional finalist, Bronxville.
The underclassmen will lead Putnam Valley, who graduated starters Kaitlyn Phillips and Stephanie Wagner. Juniors and midfielders Maddie Deegan and Jessica Denike, along with sophomore Jackie Phillips (midfield) headline the team. Deegan was an All-Section honorable mention selection last year and Phillips earned All-League honors. The trio provide Putnam Valley with experience and make the midfield unit one of the best in the Tigers' league.
Hyndman cited sophomore Katherine McNamara and eighth-grader Lindsey Cohen as new additions to varsity who have made an impression, along with veteran Catherine Mazza.
"Our team is still very young," Hyndman said. "We have a lot of underclassmen with so much promise, so building up their confidence and skill level to work with our returners is key this year."
Even though Putnam Valley is a young team, the Tigers will not back down from the large-school competition. Hyndman said, Putnam Valley plays defending Class A champion North Rockland and Arlington this season. Also, the leagues were realigned to Putnam Valley will see some new competition.
"This team is so dedicated and hard working that I am very happy to see the unity and teamwork that they currently have so early on," Hyndman said. "I look forward to playing the teams in our new league, some of which we really haven't seen in a while. We're really looking forward to the 2017 season."
With much anticipation in the Northern Westchester/Putnam region, local lax fans would agree.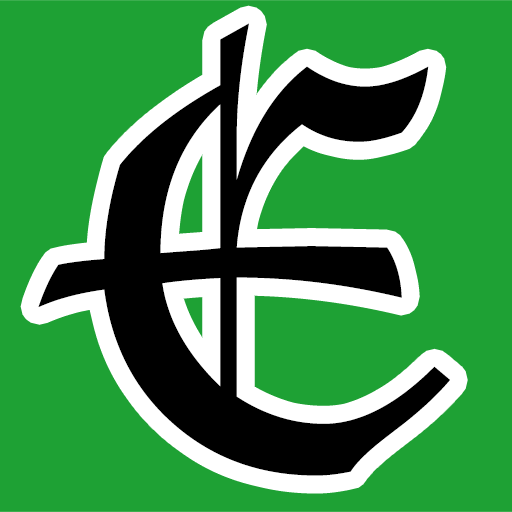 Examiner Media – Keeping you informed with professionally-reported local news, features, and sports coverage.