Gin Blossoms to Headline 2015 Pleasantville Music Festival
We are part of The Trust Project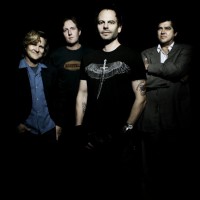 Gin Blossoms, a pop rock band, has been announced as the headline act for this year's Pleasantville Music Festival, scheduled for Saturday, July 11.
The group rose to fame in the early 1990s with songs such as "Hey Jealousy," "Found Out About You" and "Allison Road." Pleasantville Music Festival Executive Director Andy Goodman said he's thrilled to welcome the Gin Blossoms to the village for the 11th annual festival.
"The recognition and the hits that they have…people listen to those songs and they're immediately transported, they're immediately happy and they say, 'Wow,'" Goodman said.
Joining the Gin Blossoms at this year's fest will be G. Love & Special Sauce, a Philadelphia-based alternative hip-hop band, and Beebs and Her Money Makers, a ska and funk group that will headline the Beer Garden Stage. Marshall Crenshaw, known for hits such as "There She Goes Again," will headline the new Chill Tent Stage with an acoustic performance.
"These are not no-name bands, they're huge, all of them and they hit different parts of the musical palate," Goodman said of the lineup.
He explained that festival organizers were able to book these bands with the help of this year's charitable sponsor, the Love Hope Strength Foundation. The foundation raises money for cancer research and frequently attends concerts and festivals to swab people cheeks to see if they are able to be placed on the bone marrow donor registry. These artists worked their summer tour schedules around the Pleasantville Music Festival as part of their ongoing relationship with Love Hope Strength.
Although the complete lineup is still a work in progress and more bands are expected to be announced in the coming weeks, several local bands are already set to appear. Lost Leaders and Rebecca Haviland & Whiskey Heart, bands that have deep Westchester roots and whose members attended SUNY Purchase, will perform. Both acts have had airplay on Westchester's 107.1-FM The Peak, which will once again serve as the exclusive broadcast media sponsor for the festival.
There will be two unknown local bands that will have the opportunity to open the festival, thanks to a battle of the bands competition. Goodman said submissions for the contest, which was open to musicians 26 and younger, are currently being reviewed and narrowed down to a group of finalists.
Since the festival's initial goal was to provide a forum for local bands to showcase their talents, Goodman said it's important to strike a balance between bands who are trying to gain recognition and those who have already made a name for themselves.
He said when he attended the festival as a spectator, and later as a volunteer, he was always impressed by what he saw from bands that he had previously never heard of.
"I love that…you're going for one thing, you're going for maybe that big name, but you're discovering something new and coming out actually getting more…than you thought you were going to get coming in," Goodman said.
Advance tickets for this year's Pleasantville Music Festival will go on sale on Friday, Apr. 24. Tickets are $45 for adults and $24 for students and seniors. This year, tickets will be available through Ticketmaster.com as well as at a box office that will be set up at the village's recreation center on Marble Avenue.
In addition to tickets, this year people can reserve a space in tent city in advance. Traditionally, spaces for tents were given out on a first-come, first-served basis, but this year a spot can be reserved for $35.
"You don't have to get there at the crack of dawn to camp out; you don't have to worry about being the first and beating everybody else because your ticket is reserved," explained Goodman. "It's like theater seating, you're going to get a particular space."
For more information, visit www.pleasantvillemusicfestival.com.