Gift Certificate Program Supports Local Business and Community
We are part of The Trust Project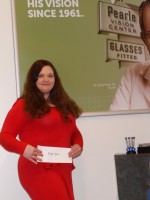 Brewster Bucks are now available at participating businesses and directly from the Brewster Chamber of Commerce. Brewster Bucks are the rebranded name for the popular gift certificate program supported by the Brewster Chamber of Commerce. They are available in denominations of $10 and $25.
"Brewster Bucks are a great way to give a gift," says Brewster Chamber Executive Director, Rose Aglieco. "They can be purchased and used at a variety of participating businesses in Brewster such as restaurants, hair salons, home improvement, printing, professional services, and much more."
A full list of participating businesses can be found on the Brewster Chamber of Commerce website at http://www.brewsterchamber.com/participating-gift-certificate-merchants/ or by calling the Brewster Chamber at (845) 279-2477.
"Brewster Bucks have no expiry date and they are sold at face value, which means that by giving or using them no one profits from their use," reminds Aglieco. "It's solely to support our local business and community."
Gene Gold of Pearle Vision, and newly elected to the board of directors, is a supporter of Brewster Bucks. He sells them at his location on Independent Way and also gives them as gifts to his customers. Gold believes that promoting business within the Chamber is both key to creating value within the Brewster Chamber of Commerce but also for families and friends, which "could perpetuate an expansion of growth for our local community".
Brewster Bucks can be purchased all year long, not just for the holiday season. Aglieco adds, "They make great presents for birthdays, house warming, anniversaries, baby showers, sitters, letter carriers, retirement, teachers, and let's not forget holiday giving!"
Below are a few of the locations where Brewster Bucks are available for purchase:
Brewster Chamber of Commerce office – 16 Mount Ebo Rd, South, Suite 12A
Brewster Wine & Liquor – 1515 Rte. 22, Lakeview Plaza
Brewster Shipping Center – 12 Main St.
Pearle Vision – 111 Independent Way, Suite B