Get on the Bus to Empire City Casino
We are part of The Trust Project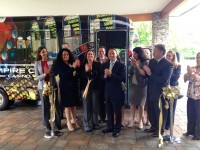 By Paige Leskin – New developments in the tourism industry of Westchester County were announced Monday, in hopes of increasing the tourism activity and visitor spending in the upcoming years.
These changes stem from a new partnership between 12county hotels and Empire City Casino at Yonkers Raceway. It has introduced multi-million dollar renovations to various hotels and attractions, as well as a new free shuttle service.
The shuttle will provide round-trip service Tuesdays and Thursdays between the Westchester hotels and the casino. A ribbon-cutting ceremony was held to signify the launch of the new program.
The press conference took place at the Renaissance Westchester Hotel in White Plains, which underwent its own $12 million complete overhaul in the past six months.  General Manager Catherine Stevens expressed her gratitude for the new investments.
"I'm thrilled to be part of the community, and for the assistance and help from Westchester [County] tourism," she said.
The new developments build on the county's tourism campaign, Meet Me in Westchester, which was established last year. "The campaign is based on an 100-mile radius, to attract the leisure and business traveler in the Mid-Atlantic," Astorino said.
Astorino continued to say that Westchester is in close enough proximity to New York City that one person could visit both in one trip. To help show how these two locations can complement each other, Meet Me has partnered with MetroNorth, Amtrak, I Love New York, and Hudson Valley Tourism.
Astorino hopes major county events, like the Toughman Triathlon and the American Gold Cup, an important equestrian show jumping competition, will bring a significant amount of tourists to the area and a boost to the county's economy.
However, the focus of the tourism not only is on visitors from out-of-town, but also on residents who may not be aware of what their own county has to offer. "Locals are now taking advantage of seeing the wonderful attractions we have here," Astorino said.
Of these attractions, the Empire City Casino in Yonkers has been made even better with a new $50 million expansion. This includes expanded gaming space, a new casino entrance, and two new restaurants, Dan Rooney's Sports Pub and Pinch.
"We have 8.4 million visits per year," said Taryn Duffy, the Director of Public Affairs of the casino. "But we're constantly trying to get additional people in."
Duffy added that the casino gives back to the economy of the county. "Many people don't know that we are a major producer of funds for the state and for education," she said.
Putting money into Westchester County's economy has been the key goal for the new tourism efforts. The recession in late 2007 caused visitor spending in Westchester to decrease dramatically, from $1.66 billion in 2007 to $1.39 billion in 2009. But, new investments have caused tourism to continue to rise since then.
"The industry has completely reversed its losses from 2007," said Astorino. Tourism produced $1.68 billion in 2012. "It proves Westchester is resilient."
It's easy to see the necessity of visitor spending in Westchester's economy. In 2012, it helped to support over 23,000 jobs. It helped to generate $200 million in state and local taxes. It affected all types of industries, from hotels and recreational activities, to retail and food. It accounted for 53 percent of the entire travel and tourism industry in the entire Hudson Valley region.
So, it is evident why so much stress is placed on this new partnership and tourism in general. Renaissance General Manager Stevens said that the casino in Yonkers mentioned the idea of the coalition at a Westchester Hotel Association meeting, and all of the hotel representatives were immediately behind it.
Now that the project is in motion, Stevens is really excited. "It's a great time to be in Westchester County", she said.