'George M!' a Rah-Rah American Period Piece at WBT
We are part of The Trust Project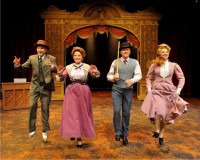 "George M!" is hyped as a "razzle-dazzle tap dance spectacular." The production, which recently opened at Westchester Broadway Theatre, is forced to live up to its promise, especially the fast-moving part, considering that it condenses the career of iconic entertainer, playwright, composer and lyricist George M. Cohan into a mere two hours.
The object of this show's affection is credited with inventing the musical comedy that sprung from decades of vaudeville. Far from a sympathetic character, George M. Cohan was reputed to be self-absorbed, pushy and difficult in the quest of his dream to be the greatest thing to ever hit Broadway.
In fact, known as "Mr. Broadway" and immortalized by his Times Square statue, Cohan was an actor, singer, writer, dancer, owner of theaters and producer, excelling in all disciplines from the time of his Broadway debut at age 15. During his lengthy career, he wrote  40 plays, collaborated on 40 others, produced another 150 and published over 500 songs.
I wondered how the WBT audience would respond to a show whose familiar numbers are rah-rah American from almost a century earlier ("Yankee Doodle Dandy," "Over There" and "You're a Grand Old Flag") but others so mawkishly dated that most of us probably relied on the excellent direction and choreography of Richard Stafford to carry us through what otherwise might have been so yesterday.
The audience on opening night included a large group of high school students who would be more likely to listen to Lady Gaga, but they seemed to enjoy this period piece of unfamiliar material in a respectful way, much as they would a lesson in history class. Also, the talents of a spirited cast helped bridge the gap of a century of changes in musical taste.
John Scherer as George M. Cohan pulls off a basically unlikeable character with some aplomb, certainly with his charming smile, solid voice and dancing, which frequently imitates Jimmy Cagney's special style, hoofing more on his toes than the balls of his feet, and his body held as though suspended by a string. Once over the challenge of portraying a teenager some years after believability, Scherer settles comfortably into creating his character.
The exceptional actor in the show is pitch perfect Jim Walton as Jerry Cohan, George's father.PutnamValleyresident Melodie Wolford (Nellie Cohan) is forever understanding and accepting of her son's peccadilloes, and Amanda Trusty, as sister Josie Cohan, has a cherubic face that is perfect for the period.
Cohan's first wife, Ethel, is played by Laura Schutter who is razor sharp when she gives George his walking papers. Jeannette Manson as George's second wife or 'Worcester,Mass." as she is called, is charming and has a crystal clear singing voice. Another great voice in the cast is that of Katharine Heaton (Fay Templeton) whose step-out song is "Mary's a Grand Old Name," under a strong spotlight. Gary Lynch, who plays Sam Harris, is another cast member who commands with an outstanding voice and stage presence.
As in all WBT productions, the ensemble is excellent. I enjoy focusing on one woman and one man in every ensemble who seem to offer something special. In this production I kept my eyes on Carol Schuberg, whose expressive face is a cross between Helen Mirren and Vivien Leigh. She also doubles grandly as Madame Grimaldi, a way-out eccentric, and Ma Templeton.
Among the men, I kept noticing Colin Pritchard who has an excellent sense of timing in his dancing and understated precision in all of his reactions to what's happening on stage. He also doubles as two other characters.
There are young actresses who perform alternately as Little Girl. On opening night it was Gabriella Palminteri, who will likely see her name on many future marquees.
This show illustrates what entertainment was all about before television, 3-D and special effects.  This was a time when people entertained people with only footlights between them. We may never want to go back to it, but we can appreciate its contribution to stage and screen today.
"George M!" runs through July 1. For information on performances and tickets, call 914-592-222 or visit www.BroadwayTheatre.com.
By Bill Primavera