Galef Hosts Town Meetings Throughout 90th Assembly District
We are part of The Trust Project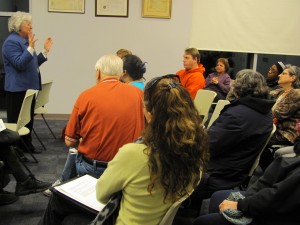 State Assemblywoman Sandy Galef will kick off a series of town meetings throughout her Assembly District on Thursday, Jan. 19 at the Ossining Public Library, followed on Saturday, Jan. 21 by meetings in Garrison and Peekskill.  Annually, Galef invites her constituents to meet with her to discuss issues of state and local concern.  The following week, she will hold meetings on Thursday, Jan. 26 at the Hendrick Hudson Free Library in Montrose, then on Saturday, Jan. 28 at the Kent Public Library and Putnam Valley Free Library.
Galef will cover topics such as the new progressive income tax, the property tax cap, mandate relief, organ donation, hydrofracking, ethics reform and discuss her priorities for the 2012 legislative session.  "I encourage the community to come out to my meetings to hear about what is going on in New York State, and offer ideas and suggestions for improving the region and New York State as a whole," Galef said.
There are no snow make-up dates planned.  If a town meeting is cancelled in one municipality due to weather, community members are free to attend another town meeting on a different date.  If the weather is inclement, call Galef's district office at (914) 941-1111 or the local library for an update on whether the meeting will proceed as scheduled.
The Town Meeting schedule for 2012 is as follows:
Thursday, January 19, 2012
7-9 p.m., Ossining Public Library, 53 Croton Avenue, Ossining.
Saturday, January 21, 2012
11 a.m.-1 p.m., Desmond-Fish Library, 472 Route 403, Garrison
1-4 p.m., Field Library, 4 Nelson Avenue, Peekskill
Thursday, January 26, 2012
7-9 p.m., Hendrick Hudson Free Library, 185 Kings Ferry Road, Montrose
Saturday, January 28, 2012
10 a.m.-noon, Putnam Valley Free Library, 30 Oscawana Lake Road, Putnam Valley
1-3 p.m., Kent Public Library, 17 Sybil's Crossing, Kent Lakes.