Fundraiser Rallies Around Carmel Boy Battling Illness
We are part of The Trust Project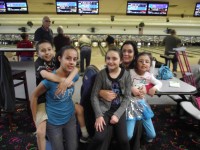 By Janine Bowen – Putnam residents came out to Carmel Bowl on Saturday to raise money for a young boy battling a difficult illness.
10-year-old Michael Nappi was diagnosed a few months ago with severe ulcerative colitis, an autoimmune disease that is known to lead to colon cancer. The only cure for the illness is the removal of the colon. Since his diagnosis in September, Nappi has been hospitalized several times, nearly ending up in intensive care as recently as two weeks ago, after the stomach flu triggered a flare up of the disease.
"It's definitely taking its toll. You don't expect your kid to get sick," said Michael's mother, Krystal Garcia.
Friends of the family saw the difficult time the family was going through, and decided they should do something to help.
Christine Kirschbaum helped organize the event after her son, Kevin, who bowls in a Saturday morning league with Nappi, decided he needed to do something to help his sick friend.
"My son spoke to me and said 'we need to do something to help him'," explained Kirschbaum.
Since Kevin and Michael met through the bowling league a few years ago, a fundraiser at Carmel Bowl seemed only natural.
"I came up with the idea to do the fundraiser because I wanted to help Michael and his family out because I knew he was sick and he couldn't pay his medical bills," said 10-year-old Kevin Kirschbaum.
Upon hearing that Michael's friends wanted to step up to help him, Garcia felt a sense of pride, but perhaps nobody was as excited about the fundraiser as Michael himself.
"My mom told me, when I was in the hospital, about this. I just popped up out of my bed, so happy, and started smiling," he said.
The event was a success, with nearly two dozen of the bowling alleys thirty lanes filled with people bowling for Michael.
"It feels really good," said Kevin Kirschbaum. "It feels really warm inside that a lot of people came to help Michael with his medical bills."
For a price of $20, bowlers at the Carmel Bowl got three games as well as shoe rentals. $10 of every purchase went to the Nappi family. In addition, the event hosted a 50/50 raffle as well as a raffle of hair care products donated by Super Cuts. The money raised will help Garcia, who is a single mother and must take time off of work each time Michael is hospitalized, offset Michaels' medical costs.
Garcia says that next year she hopes to hold a similar event to raise money for the Chron's and Colitis Foundation as well as the Maria Fareri Children's Hospital, where Michael has received his medical care.