From a Serendipitous Beginning, What a Fine Wine Journey It's Been
We are part of The Trust Project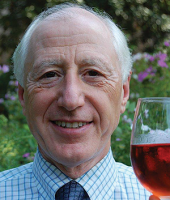 In the summer of 2007, much was right with the world. The stock market was riding high and home values continued their seemingly endless rise.
A few months later, bam! The world as we knew it began to unravel. Bear Stearns was teetering and the subprime mortgage bubble was finally showing signs of weakness.
In the midst of the euphoria of the summer, at a dinner party, Adam Stone and I discussed his dream of publishing a weekly print newspaper. At first, I attempted to discourage him: "Print is dying, after all. Many folks are gravitating to the Internet for their news and op-eds."
His retort: "Nick, I believe there is an underserved niche in today's news environment. Hyperlocal news is very much in demand and the print, electronic and digital media do not adequately serve this market."
As we continued sipping wine and enjoying small plates, he offered a proposition. Would I be interested in penning a weekly wine column for his nascent newspaper? I decided, almost as a lark, to accept his offer.
So, here I am, celebrating my 10th year – and column number 519 – sharing Adam's fulfilled dream.
At the onset, I struggled to find my journalistic voice. Should the focus be a critique of individual bottles of wine? Stories bubbling up from the Bacchusphere? Virtual tours of wine regions? An encyclopedic-like primer on the technical aspects of grapes and wine making? My personal views on all things wine?
For the first few years, I experimented with multiple focuses, looking to my readers for guidance. As one might expect with a publication that crosses many demographic factors, there was no single direction to be taken. So I decided to attempt to please all the people – some of the time. With this latitude, I embarked on each of the topics mentioned above, and still do to this day.
On this occasion, I thought I'd digress from my longstanding practice and instead provide a glimpse into the behind-the-scenes joy of producing my weekly column.
Each week, I reserve Sundays to craft my column. It doesn't conflict with my family and career demands and I can work into the wee hours of the morning to meet my submission deadline.
There have been a number of unlikely venues:
Traveling in our car, iPad resting on my lap, on interstate highways in numerous states (my wife always at the wheel).
In hotel rooms on business trips, rental homes while on vacation, pools or beaches, and on verandas overlooking scenic vistas. I've composed in a number of states, including California, Arizona, Florida, South Carolina, New Jersey and Colorado. I've also submitted columns from locales in Italy, France and the Caribbean.
But as exotic, and stressful, as these locales may have been, none compare to the Sunday night, several years ago. We had no power in our home due to a fallen tree in the midst of a bitter winter snowstorm.
Picture this: It is midnight. I'm sitting at my kitchen table penning my column (I had completed my research beforehand). A flashlight is precariously positioned to provide light on my laptop's keyboard. Every few minutes, my eyes dart to the laptop's battery meter as I race against a draining power supply. I'm wrapped in a blanket as the indoor temperature descends into the low 50s. I sense the growing numbness in my fingers as I near completion of my column.
Finally, I breathe a frosty sigh of relief. Done.
It's now after two o'clock in the morning. My next challenge? No home power, therefore, no Wi-Fi connection. How do I transmit my already delinquent column to my editor?
I formulate a plan, and then wait. And wait. And wait – until 6 a.m. Then I race to the Black Cow in downtown Pleasantville as they open their doors. I log into their Wi-Fi, and with a figurative whoosh, my column heads to my editor's desk.
If there ever was a doubt in my mind that I was committed to Adam's vision back in 2007, it dissipated that night/morning.
Congrats, Adam and staff, especially my editors, on your passion, expertise and endurance.
Nick Antonaccio is a 40-year Pleasantville resident. For over 20 years he has conducted wine tastings and lectures. Nick is a member of the Wine Media Guild of wine writers. He also offers personalized wine tastings and wine travel services. Nick's credo: continuous experimenting results in instinctive behavior. You can reach him at nantonaccio@theexaminernews.com or on Twitter @sharingwine.