Business of the Week: Fro-Yo Fusion, Brewster
We are part of The Trust Project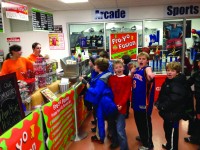 By Breanne Post
There is a new trend happening in Brewster. A new frozen yogurt business, Fro-Yo Fusion, is attracting lots of attention around the area.
Fro-Yo Fusion, which stands for frozen yogurt fusion, is the place to find flavorful frozen yogurt at a low price.  Located inside the Brewster Sports Center, at 19 Sutton Place, in Brewster, it is a haven for many sports players who can now cool down with a small cup of frozen yogurt after their practice or game. However, you do not have to be an athlete to get a taste of the cold treat.  The public can just walk in and buy a treat too.
Owners Ken and Ginny Ryan, who also own Somers Custom Framing and Gifts, decided to open up a frozen yogurt shop after seeing a trend in lower Westchester.
"Originally we tried to open it up in Somers but then we asked the owners of the Brewster sports center if we could open up one there and they agreed," said Ken Ryan.  "It is very convenient for Fro-Yo Fusion to be at the sports center because after kids are done playing basketball or indoor lacrosse they can come by and get self serve frozen yogurt at a low price."
Having Fro-Yo Fusion be able to provide frozen yogurt for about half the price as found in other places was an important to the Ryans.
"When my family and I used to go and get frozen yogurt it would end up being about $70 dollars for all of my six kids," said Ginny Ryan, "That's why our prices are half of the normal price and a small is $2.50".
Fro-Yo Fusion offers a wide selection of frozen yogurt flavors and about 32 toppings of your choice. The toppings range from healthy fresh strawberries to various candy options.
Expect for there to changing yogurt flavors to offer people a variety of options. The two flavors that are always in there menu are vanilla and chocolate.
"No matter how old we get vanilla and chocolate will always be a top choice to pick from," Ginny Ryan, who will be seeking customer feedback through a consumer survey, said.
Fro-Yo Fusion works for many people who have special dietary needs. The yogurts are gluten free and kosher and have no high fructose corn syrup. There are also non-fat choices available.
The top menu item is the strawberry banana smoothie, but Fro-Yo Fusion offers other things like coffee and tea, soup in the mornings, a lot of choices of candies for only 25 cents, smoothies, and healthy drinks like Gatorade, Propel flavored water and Snapple's.
It has only been open for three months, but Fro-Yo Fusion is already becoming a popular stop for the sportsmen and non-athletes alike. The Ryans hope the healthy treat continues to be a growing trend in the sports center and its surrounding towns.
"There are so many unhealthy options out there," said Ginny Ryan. "We offer a great tasting healthy alternative that people both young and old love."
Fro-Yo Fusion is open during the week from 5 to 9:30 p.m. and on weekends from 9 a.m. to 9 p.m. The business hours vary slightly to accommodate the sports that are being played at the center. For more information call 914-450-9503 or visit fro-yofusion.com.