French Indie Filmed at Heineken USA Offices in White Plains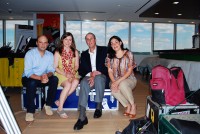 On Saturday afternoon, Heineken USA's offices were turned into the home of an on-the-rise software development company while White Plains became a generic prototypical New York suburb. All it took was a few posters and pictures to cover up the Heineken signs on the walls and a film crew.
The Heineken USA corporate office, located at the Reckson Metro Center on Hamilton Avenue in White Plains, was used for the filming of "Bird People," and independent French film by director Pascale Ferran.
"We were looking for an office. We were scouting a bunch of suburban city offices, basically. It was a lot about the view," explained Darren Goldberg of Atlantic Pictures, the movie's U.S. producer. "We had heard about Heineken's renovations and what they did to their offices. We were lucky enough to have our location manager peak his head in."
While Heineken USA's posh offices are just blocks from White Plains landmarks like the Ritz-Carlton, Westchester and Trump Tower, the scene is shot with the windows on the building's north side in the background, where some smaller, less distinguishable buildings can be seen among rows of trees.
"There's something about the views here that are very American for a French director," Goldberg explained. "Whenever a foreign entity comes here they're always looking to really get the most out of the fact that they were really here in America shooting and so it's a view that they can't double in France."
The film, which is being shot in Paris and White Plains and alternates between French and English, stars Josh Charles of CBS's "The Good Wife." The scenes shot at Heineken USA show phone calls between Charles's character, Gary Newman, and his business partner Allan, played by Geoffrey Cantor.
"The outside of the building, you're thinking, 'Really?' and you get up here and the offices are beautiful," said Cantor, a Ramsey, N.J. resident who's been on Law & Order, appeared on The Sopranos and played President George W. Bush's press secretary, Ari Fleischer, in the 2010 film "Fair Game." "If I ever were not going to be an actor, this would be exactly the office I'd want to work in, because there's this awesome bar with more beers than most bars have."
Bird People is just the latest of many movies to film scenes in White Plains or elsewhere in Westchester County. Fair Game, "Salt (2010)," "Young Adult (2011)" and "The Departed (2006)" all brought film crews to the city, while 2010 Oscar winner "Black Swan" was filmed nearby at the Purchase College-SUNY campus.
"This just exemplifies the beauty of our county," said Westchester Deputy County Executive Kevin Plunkett. "It exemplifies that our film department, under [Director of Tourism & Film] Natasha Caputo's direction in the tourism department, is vibrant."
Bird People also features shots of I-95 in New Rochelle.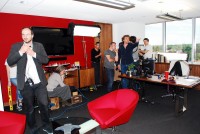 "The American highways are very different than France," Goldberg said.
Stacey Tank, Heineken USA's senior vice president, said she was thrilled her company's remodeled offices had attracted such attention.
"Our whole business is going through a transformation now and a business turnaround and a cultural reinvention, so we think now, the way our offices look really match the way our company feels," Tank said. "We're just thrilled someone was really admiring them."
Bird People centers on Newman, a businessman who goes to Paris on business and leaves his life behind, Goldberg explained. The producers are hoping to premiere it at a film festival, ideally Cannes International Film Festival in France next May. If all goes well, the movie may be in wide release by the end of next year or 2014.
Heineken USA, a beer importer with regional offices across the country, imports Heineken as well as several other beers including Amstel Light, Newcastle Brown Ale and Dos Equis.