Freezin for a Reason Kicks Off in Mahopac
We are part of The Trust Project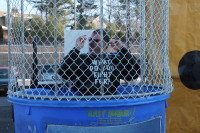 Teams celebrated the kickoff of the 12th annual Freezin for a Reason fundraiser  at Mahopac Firehouse on Jan. 6 by having members take turns in a dunk tank while others donated money to throw balls at the target.  The festivities, which included team registration and a barbeque, are a prelude to the annual lake jump in March.
Last year the Freezin for a Reason event raised $160,000 that benefited the Cystic Fibrosis Foundation. Event founder Christine Stack, whose daughter Jacqueline, 12, has cystic fibrosis, is hoping to exceed that in 2013.
This year Freezin for a Reason will be held on March 9 at Sycamore Park in Mahopac. The after party will be held at Putnam National Golf Club in Mahopac.
To register a team or to find out more information, visit www.freezinforcysticfibrosis.com.