Former Pleasantville Resident Makes It Big on "Jeopardy!"
We are part of The Trust Project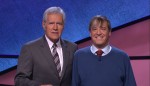 By Janine Bowen
Imagine Alex Trebek reading the following clue: A former Pleasantville resident who has won nearly $200,000 on "Jeopardy!" in multiple appearances during the past two decades.
The correct answer: Who is Leszek Pawlowicz?
Pawlowicz, 56, who lived in Pleasantville from 1960 until he left for college in 1975, is one of the top winners in the game show's history, winning $180,400 since his first appearance in 1991.
"I think everyone who goes on the show has the hope that they're going to win at least one game. And I was very happy when I did that, but I was honestly more than a little bit surprised when I went and won the maximum of five days," Pawlowicz said of his first win more than 20 years ago. "That was an unexpected pleasure."
At the time, contestants were limited to five days of appearances, during which time Pawlowicz won $75,400. He earned an invitation to the 1992 Tournament of Champions, which he also won, picking up an additional $100,000. He also appeared in the 2005 Ultimate Tournament of Champions, but was eliminated in the first round.
Pawlowicz, a Pleasantville High School graduate, has made a more recent return to the game show world, capturing the first round of the "Jeopardy!" Battle of the Decades tournament earlier this month. This win guarantees him at least $10,000 and the chance to compete for up to $1 million.
Despite his massive success on "Jeopardy!", Pawlowicz considers himself to be the "Homer Simpson of game shows." Most people, when they learn of his "Jeopardy!" prowess, overestimate his knowledge and expect him to be an authority on all subjects.
"I'm a smart guy, I'm not going to deny that, but being able to come up with these facts and having this reputation as a 'Jeopardy!' champion, people tend to think that I'm smarter than I actually am," explained the MIT graduate, an archeologist who lives in Flagstaff, Ariz.
Pawlowicz said success on "Jeopardy!" actually comes from being able to recognize context clues in the questions as well as making connections between known facts.
"I've always had a really good memory for facts, and I think the more you pick up, the more you can make connections between different facts and pull stuff out," he said. "It's not like I have a list of stuff that's memorized and it sort of sits there by itself. Typically, I can make connections between something."
Pawlowicz doesn't really study for his appearances, but prepares by watching the show and taking note of the categories that are repeatedly used. He makes sure to brush up on topics such as state and world capitals, Shakespeare and the Bible. Other than that, he finds that studying has no impact on his ability to win.
"The only other real studying you can do is watching the show and sort of getting into the rhythm of answering at exactly the right time," Pawlowicz said.
The "Jeopardy!" champion remembers watching the daytime version of the show hosted by Art Fleming while he was growing up in Pleasantville. By the time Alex Trebek took over, Pawlowicz was in graduate school and was confident he could do well on the show. However, appearing on stage is much different from the comfort of your living room, he said.
On the show, half the battle is mastering the buzzer, Pawlowicz said. Viewers at home may not be aware that once Trebek has finished reading a clue, a person offstage activates a light that indicates that the contestants can buzz in to answer. If a contestant buzzes in too early, before the light goes on, they get locked out for a quarter of a second and can miss their chance. Buzzing in too late is also a problem, and Pawlowicz explained that success lies in anticipation.
"If you wait for the light to go on, you'll lose," he said. "You have to anticipate when the light is going to go on and be ready to buzz in and time your finger."
Of course, he can't always get the timing right. In his recent Battle of the Decades appearance, Pawlowicz gave the correct question to 24 of the 60 clues. However, he knew the answers to most of the others but was beaten to the buzzer.
Pawlowicz also noted that contestants must act as though they're not on television to be successful.
"I think the thing that differentiates the players who do well on the show versus the ones that don't is that if you can basically put yourself in the same frame of mind as when you're at home, then you'll do well," Pawlowicz explained. "If you're conscious about the fact that you're on TV … and there are cameras on you and potentially an audience of millions and you let that get to you, you will not do well."
Pawlowicz is preparing for his next appearance, the Battle of the Decades finals, which tapes in April and is scheduled to air May 5-16.
Although he may not have cracked open the books yet for the finals, there is one thing Pawlowicz needed to learn—how to tie a tie.
"The only time I wear ties is when I'm going to a wedding or when I'm on a game show, so I have very little practice," he said. "The first time I was on the show, my tie was almost always crooked, so this time I had to watch a couple of YouTube videos on how to tie a tie because otherwise I would not have been able to keep it on straight."