Former Hen Hud Superintendent Picked as P'ville HS Interim Principal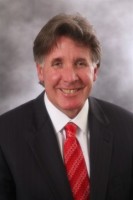 After a two-month search, Pleasantville High School has a new principal.
The district landed Dr. Daniel McCann to serve as interim principal to replace departed PHS leader Dawn Bartz as the Board of Education unanimously approved his appointment Tuesday night.
Superintendent of Schools Mary Fox-Alter and board members touted McCann's experience and leadership qualities in a subdued meeting, a stark difference from the previous three.
McCann had most recently served as superintendent in the Hendrick Hudson school system for six years before retiring at the end of 2011-12 school year. His term as PHS principal starts Aug. 12 and lasts until June 30, 2014.
McCann said during the meeting that he "feels a match here in Pleasantville."
"In my career my greatest success is building better schools and school systems," McCann said in prepared statement. "That's what I've done well."
In a parallel search for both a probationary and interim principal, the district reviewed 88 applications before deciding to hire the long time administrator. Bartz, who said she reapplied for both the permanent and interim principal position was not in attendance, the first time she was absent since the board accepted her apparent unwilling resignation during a June 18 meeting.
And while reminisce of her controversial departure could still be sensed, for the most part both board members and among the 100 community members in attendance were looking toward the future.
Board trustee Lois Winkler said of McCann, "His experience is extraordinary and he's going to be in a great position to move the high school forward."
"When I met with him, he not only said the right things," board trustee Lou Conte added. "But said things that really inspired me frankly."
Community members have been critical of the district about the lack of stability at the principal position in recent years. After just one day on the job, the district fired Anthony Rotunno when school officials learned from a state audit that staffers at his former school misused $90,000 in student-raised funds. As for Bartz, she had been at the school for two years before submitting a letter of resignation that was accepted, though she has made the claim it was forced by the district.
The district didn't lay out a plan about restarting the search for a probationary principal, but Fox-Alter said that discussion would come in future meetings.
Check back in Tuesday's The Examiner for more on this story.