For Girls Looking for a Mentor, Help from 'Judge Judy' and her Daughter
We are part of The Trust Project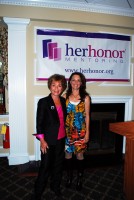 By her senior year at White Plains High School, Ania Campbell had been hearing about the Her Honor Mentoring program for two years. Her guidance counselor, Magda Martas, had been urging her to apply since her sophomore year and in October 2011 Campbell began her internship at White Plains Hospital.
While Campbell was eager for experience in nursing, there was another appeal to the program. Its main funder is Judge Judith Sheindlin, known for the hit syndicated television show "Judge Judy." Founded in 2006 by Sheindlin's daughter, Nicole Sheindlin, Her Honor Mentoring pairs young aspiring female professionals from five Westchester high schools with successful women in a career field the girls are interested in pursuing. They spend their senior year getting useful on-the-job training – working in their internship around four hours a week – while also attending monthly workshops to improve their professional skills.
"We have farmers, corporations, doctors, lawyers, judges, business owners, non-profits. Just a really wide array of professions," Nicole Sheindlin explained. "We started with eight students at one high school and now we're up to 40 students at five high schools."
On Thursday, the 40 high school seniors who took part in the program this school year were honored at a luncheon at the Larchmont Shore Club. Graduates and their mentors heard from Nicole and Judith Sheindlin as well as Westchester County Executive Rob Astorino and were shown a video highlighting some of the program's successes.
For her internship, Campbell was paired with Pam Coleman, a registered nurse at the hospital's maternity center, and learned not only the ins and outs of nursing but what it meant to be a successful woman.
"I've learned to be strong, supportive, passionate about what I want to do in life, and she's supported me the whole time," Campbell, one of eight seniors from White Plains High School, said. "I really haven't had a woman figure to look up to, a person who's been in college, and I have Pam now to look up to."
Judith Sheindlin said her daughter, an attorney who had 15 years of experience with legal aid in the criminal defense division, approached her seven years ago with her idea for the program. She thought it had merit and knew Nicole had the tenacity and intelligence to pull it off, but admitted she was uncertain how her daughter would handle running such an organization.
"I had never seen the business side of her," the elder Sheindlin told The White Plains Examiner. "But I was prepared to say, 'Let's give it a try.' It was something I felt was a positive, good thing for young women."
Working in legal aid, Nicole Sheindlin found that by the time her clients came into contact with the legal system, they were already entangled in a host of issues.
"I really wanted to work, still in a community, but in a more proactive stance," she said.
The daughter of one of the most successful women in the history of the legal field, Nicole Sheindlin had grown up with as strong a mentor as an aspiring attorney could hope to have.
"I used to go to work with her all the time," she recalled. "She used to tell me how to dress, how to eat. All the business skills that I needed."
Giving other women a similar opportunity, she determined, would have a greater effect on their lives than she could have in the courtroom.
"I think that young people today really are looking to connect with positive role models, and the fact that Judge Judy's name is attached doesn't hurt either," she said. "The program is made within her image. She's my mentor, so really the structure of the program is very along our experience."
The program is administered by the county's Office for Women and the Women's Research and Education Fund, with Patricia Lanza of the Lanza Family Foundation helping with funding.
Michelle Gonzalez, also a senior at White Plains High School, saw the internship as a once-in-a-lifetime opportunity and was matched with Martha Anderson, a Spanish speaking program specialist at the Westchester County Office for Women. Anderson's poise in helping women who had been abused was an inspiration for Gonzalez.
"I really wanted to include bilingual skills in my career," she said. "With Martha, I learned that reality is a little more hard-hitting."
Imelda Cruz Avellan, a senior at the Nellie A. Thornton High School in Mount Veronon, worked with Westchester County Deputy Communications Director Donna Greene. An aspiring engineer, Avellan had never worked in an office setting said the support of Greene and her colleagues was encouraging.
"I've always been the kind of person where I always felt that everyone should have a chance, especially women," she said. "I felt that it was always harder for a girl to get involved in a lot of activities."
The program has been a positive experience for the mentors as well as the mentees. Pamela Coleman was matched with Campbell, who is headed to Delaware State to study nursing, after she received an e-mail about Her Honor Mentoring. She called working with Campbell inspiring.
"Just seeing her grow," Coleman explained. "And her enthusiasm. Her willingness to learn. Her commitment."
Judith Sheindlin, who called the program's growth "gratifying," urged the newest graduates to focus on making positive first impressions, having a strong moral compass and finding the passions in their lives.
"Nicole and I shared certain things. Neither one of us were brilliant students. We were sort of average. But we had tenacity and we wanted to make something of ourselves," Sheindlin told more than 100 people at Thursday's luncheon. "When she approached me about doing something with women, I could see that there was a fire in her belly and a shine in her eye, and I said, that may be just the right fit. And it was for her. I think that she's found her life's calling, which makes every day a joy for her to get up and put people together, try to make their lives a little bit better."
Mamaroneck High School, Saunders Trades and Technical High School in Yonkers and Mount Vernon High School also had students in the program. Other students from White Plains were Lila Abanto, who worked with Cathy's Biscotti owner Cathy Schauber; Brittany McKenzie, who worked with Carol Robinson of the YWCA of White Plains and Central Westchester; Diana Naulaguari, mentored by Katherine Palacico of White Plains Hospital; Danielle Berkman, mentored by Leslie Garfield of Pace Law School; Elizabeth Hernandez, who helped Jane Corcoran of E-Administrative Services; and Yan Yun Lin, mentored by Daphne Swinton at the county's Department of Social Services.