Food is the Focus in New Jacob Burns Film Series
We are part of The Trust Project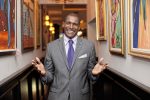 If tasting, sampling and thinking about different types of food is one of your favorite pastimes, the Jacob Burns Film Center in Pleasantville has something special in store for you.
The love of food is the subject of a new ongoing series set to begin Monday at the film center, Film to Table.
Part of the impetus behind the series was the popularity of the film "Bugs," a documentary directed by Andreas Johnsen detailing how bugs are sought to be used for food, said Karen Sloe Goodman, a programmer at the Burns. "Bugs" was part of the theater's 2016 Focus on Nature series, she said.
"We had all been talking about how enthusiastically our audience responded to the 'Bugs' film," Goodman said. "So this was a natural extension of that model."
Each event in the series includes a film screening and an opportunity to sample the food represented by the film's theme at a special reception.
The series launches with a screening of Leslie Iwerks' documentary "Ella Brennan: Commanding the Table." Brennan is the matriarch of the famous Commander's Palace restaurant in New Orleans, which was credited as revolutionizing creole cuisine while helping to launch the celebrity chef phenomenon, Goodman said. The film will include interviews with Emeril Lagasse and Paul Prudhomme.
"Although we have planned the series as mostly a retrospective of favorite food-related films, this new documentary captures the genesis of the American foodie movement and celebrates a great woman pioneer in the field as well," Goodman said.
Alvin Clayton will be the first chef highlighted at the series kickoff. Clayton, owner of Alvin & Friends in New Rochelle, is an example of how New Orleans food traditions have influenced current popular cuisine, she said.
Following the question-and-answer session with Clayton, those who have purchased a reception ticket will go to the Media Arts Lab for a tasting reception catered by Clayton's restaurant. There will also be live music performed by The Bunkhouse Boys.
The series, sponsored by Elizabeth and Gary Schonfeld, is scheduled to have six programs a year.
The Jacob Burns Film Center is located at 364 Manville Rd. in Pleasantville. Call 914-747-5555 or visit www.burnsfilmcenter.org for more information, including ticket prices.