News Based on facts, either observed and verified directly by the reporter, or reported and verified from knowledgeable sources.
We are part of The Trust Project
All-Girls Varsity Flag Football Kicks Off in Somers

Good morning! Today is Monday, May 2, and you are reading today's section of Examiner+, a digital newsmagazine serving Westchester, Putnam, and the surrounding Hudson Valley.
Need to subscribe — or upgrade your Examiner+ subscription to enjoy full access to all of our premium digital content? Take advantage of our special FREE TRIAL OFFER.
Take Examiner+ on a test drive today at NO CHARGE for a full month. Enjoy full membership-level access to all of our premium local content, delivered straight to your inbox six times a week.
---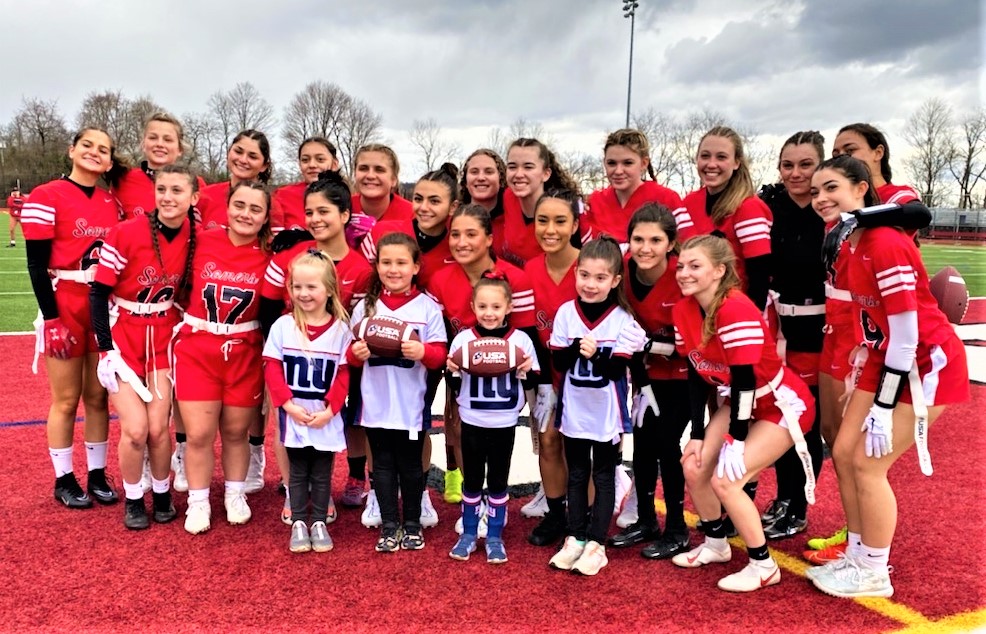 This spring, the New York State Public High School Athletic Association (NYSPHSAA) kicked off its all-girls varsity flag football pilot program in six sections throughout the state, including in Westchester and Putnam County's own Section 1. Examiner+ recently connected with Somers High School flag football coach Katie DiChiaro and Jennifer Kisslinger. 
Together, DiChiaro and Kisslinger started an all-girls flag football league in 2018 through the Somers Youth Sports Association (SYSO). In the four years since, the recreational program and sport have grown exponentially. 
The two sat down to discuss girls' flag football in Somers, NYSPHSAA's pilot program, and their goals for the future of the sport. As an added bonus, four senior players share their thoughts on being involved in the inaugural season.
Examiner+: How did you initially decide to start an all-girls flag football program for Somers' youth?
Jennifer Kisslinger: Katie's been a lifelong athlete, and she has a history of coaching sports in the town. She and a friend of hers decided to do an after-school program for the youngest girls in first and second grade called "Intro to Sports." She thought it would introduce them to and diversify their interest in sports. 
They did a unit on flag football, and when the kids came off the field, I was blown away. My daughter was like, "Oh my god, Mom. I love this. This is the best time we've had. Can we do this every week?"
I said to Katie that we should consider starting a flag football program for girls. True to who Katie is, she said, "Okay, let's!"
We went to a private facility to see if we could have an open house for an indoor league. To our surprise, we had 30 girls registered in our inaugural year. We were thrilled and blown away. Fast forward to four years later, we had 188 girls play. 
E+: How did you get involved in the NYSPHSAA pilot program?
Katie DiChiaro: I follow a bunch of football websites and Instagram and Facebook pages. I saw that the New York Jets had an initiative for high school girls.
Even before this was happening, Jenn and I wanted to keep our girls playing, but we knew that there weren't any all-girls [high school] leagues around. We were going to keep offering it until something came about for high schoolers because we knew that we had a feeder program. After I saw that the Jets were doing it, I reached out to one of the owners of the New York Giants, and he got us in touch with their community youth coordinator.
The Giants were supportive of our youth program and told us they would do anything to help us. They even had us go on calls to talk to people looking to start their own leagues, and we spoke to them about our success. They said they would be in contact with New York State, who we had also already spoken to about starting [girls' flag football] in our section.
The state told us that as long as our athletic director was on board, we could have a program. Our athletic director was very supportive, so we were ready to go whenever he said yes.
[Initially], we were slated for 2023. Because there is such a scarcity of these programs, a lot of high schools were worried about the participation numbers. But because we have such great participation in our town, our athletic director said, "No way. We're totally doing it. Put us in a year early, 100 percent."
So he contacted us and said, "Okay, we're ready to go. Can you coach? Let's get this program going." We had three weeks to prepare for tryouts and get the team together. It was fast, but it was awesome.
E+: Were you surprised by the high turnout at tryouts?
KD: We have a big football town, and we really support our boys' football program. Our entire community supports our girls' youth program too, so I wasn't surprised about how many girls came out.
I knew that even though these girls have played other sports all their lives, they all thought it was really cool that little girls get to play flag football and, given the chance, a lot of them were like, "You know what? Let's try it. This looks amazing." And they did.
We have a team of 20 girls. This was a really unique opportunity for these girls, and I think a lot of the juniors and seniors, as well as freshmen and sophomores, really wish they had it all along. It's an opportunity that wasn't there before, and we're thrilled that our youth program can now feed into the high school program. 
"They deserve it. They're capable, incredible, and really smart. They're females. They're powerful. They're the main event. We're really proud to be a part of this and honored that we get to watch it unfold, hopefully for years to come." — Coach Katie DiChiaro
E+: What makes flag football such an attractive sport? I know in recent years, the sport's popularity has increased significantly.
KD: It's a great game where you really have to use teamwork and everybody has to be supportive of each other. If you love football, I think it's a better version because there's no contact. You have to be really smart about how you play. It's physical, but it's less physical than tackle football. 
The same intelligence and smarts you use in football, you have to use in flag football. People are attracted to it because football is such a great game, but flag has a different element, and it's more fast-paced.
I'm a huge football fan. I've watched it all my life and have played, but I think that people are seeing the injuries that are coming long-term. If girls or even boys don't want to play tackle and risk all of the injuries, they have this alternative, and it's just as fun. 
Every year, the sport gets more popular, and there are more opportunities. Now college scholarships are being given, and there are women's leagues and tournaments. It could be in the [2028] Olympics, so they're supporting it too. 
This is really a sport that's gained a lot of popularity and gives girls and women, especially, a lot of confidence to play something that they wouldn't normally play.
JK: A lot of this was organic, too, in the sense that at the kindergarten through second-grade age, children generally play flag. They're not playing tackle. What happens after that point traditionally is the boys have gone on to play tackle. 
Flag has become more popular because of the injuries, and, in our situation, we were providing an extension of flag beyond the second grade for girls. Boys are playing flag as well, but it's an alternative that allows girls to keep going. 
[Before our program], flag football basically stopped at the second grade for the most part. It just wasn't a normal sport that you'd see continuing.
E+: How does it feel like to watch the varsity girls play, especially those who are new to the sport?
JK: I'm astounded by the bravery of the varsity girls. Some of them have never touched a football, and they have stepped onto the field and done this.
Katie has really embraced these girls, given them the instruction correctly right from the get-go, and encouraged them. They're doing an amazing job.
KD: I feel like I've gained 20 daughters. I love all the girls so much that I just want to keep on creating these opportunities for them. 
We are lucky that we have such good support from our staff and parents. We want this to be the norm for them.
What is interesting, though, is that people didn't expect them to be so good. One of the girls expressed a great sentiment. She's happy, but she's not satisfied because she doesn't want people to be surprised that these girls are amazing athletes and very capable.
There's a lot to be done for women in football, and this is just the beginning. It doesn't discount the gratitude that they have for being in this position and being a part of the team.
But that's what we want: we want these girls to not be satisfied. We want these girls to want more, and I think that's what Jenn and I have tried every single year to improve upon, creating these opportunities where they want to bring it to the next level. 
They deserve it. They're capable, incredible, and really smart. They're females. They're powerful. They're the main event. We're really proud to be a part of this and honored that we get to watch it unfold, hopefully for years to come. 
E+: With the pilot program at the high school level, do you hope flag football trickles down to being offered as a middle school sport for girls?
JK: I think that's definitely a natural and obvious next hope and step for us. 
Also, one of the side effects of having the K-8 recreational program and now having it picked us as a pilot program is adults [getting involved].
Katie asked if women would be interested, and at first, I didn't know. But lo and behold, you set it up, and they will come. 
E+: What has been the most rewarding aspect of the pilot program?
KD: For me, it's seeing that the girls have taken something in a very short period of time, learned it from the ground up, and been able to execute it so well. The girls are so supportive, and they all cheer each other on.
Football is football, but sports teach you life lessons. They can take advantage of this opportunity and apply it off the field into their adult lives.
JK: As a young female growing up, whatever sports were out there were so intimidating to me. The thought of playing sports on a girls' team at the time was scary enough, so something like football wouldn't have even crossed my mind to participate in such a thing. 
What is remarkable to me — both helping to start the organization from the ground up and being a parent watching my 10-year-old take [the sport] on as a six-year-old and now watching my high school daughter playing on the varsity team (who never played flag football before) — is looking at their attitudes and perceptions. It doesn't even cross their minds that they would not be welcomed, entitled, or belong on that field.
Even as an adult, there are days I'm afraid to get on the field and play flag with other women because I'm like, "I can't do this," which is the exact opposite of what these young girls and women are doing. And that's the goal.
That's what brings me the most satisfaction and pride. It doesn't even cross their mind that they shouldn't play. They belong there. They show up. They give it their all. 
They're not afraid. They're confident. They're brave, and they do it just as well as anybody else. 
E+: Do the younger girls look up to the varsity players?
KD: They came to the jamboree, and they were all in awe of the varsity girls. It was really cute, and they cheered them on. We want to bridge the gap [between the youth and varsity programs]. It was suggested that the [youth] girls can be water girls. We definitely want to involve them. 
E+: What's support been like from the broader community?
JK: This town is very football-oriented, and it's been quite remarkable in a positive way that the community as a whole is all excited to come support, asking us to send the game schedules. The little ones are showing up with their eye black. Even the boys in town and the high school boys are like, "Yep, we're coming. We're rooting you on. The girls did it for us all fall, and we're going to have our 12th Man section for the girls." 
The families are excited, and the community as a whole has been so supportive. It's exactly what we hoped, and we couldn't be more grateful for that. 
E+: What has been your favorite part about playing in the varsity pilot program?
Amy Lasher: My favorite part is being able to have fun playing a sport with my friends during my senior year. We are fortunate to have a great coaching staff that is truly encouraging and supportive. It's exciting being a part of an inaugural season and paving the way for future athletes. 
Ella Goldman: Being a part of my team. This is a group of wonderful individuals who not only work hard but know how to have fun. And being led by such amazing and empowering coaches definitely doesn't hurt. This group is incredible to play and learn with, and I am lucky to know each and every one of them. 
E+ What opportunities do you hope the pilot program creates for other girls throughout New York?
Allie Zattola: I hope that these girls look up to us and realize they can do it too. This was our first year playing flag football and many people's first time touching a football. These girls are just as capable as everyone else.
EG: I hope this program is the start of a new belief about women in sports. We are often underestimated, and this sport instills the belief that women are capable athletes. If nothing else, I hope this program helps these girls build confidence and be proud of being a woman.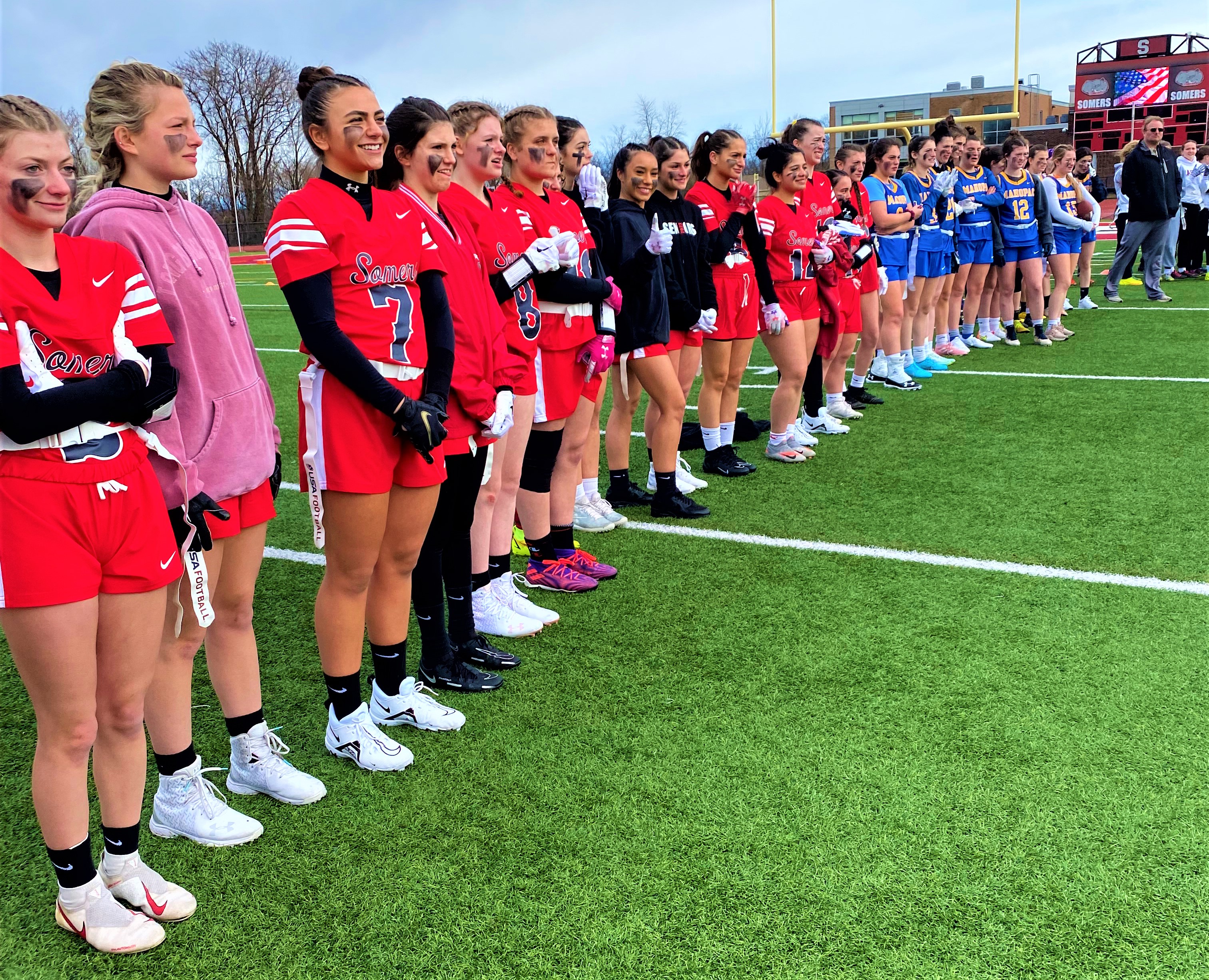 E+: How does it feel to have younger girls looking up to you?
Guliana Claro: For the younger girls that already have a program, I am glad they will have a sport to play when they enter high school. For them to have older kids to look up to playing the same sport is a huge advantage to our town. 
AZ: ​​It feels great. Watching the younger girls run up to us during the jamboree was very empowering. We are creating a path for their future so they can continue on their football journey. 
AL: As a senior athlete, I feel fortunate to be able to show the younger girls that they can do anything they set their minds to. By trying something new and gaining confidence, there are no limits to what you can accomplish.
EG: It really feels amazing knowing that young female athletes are able to look at us and see a tangible future for their athletic careers in the sport. Full honesty, however, I think we look up to them even more. The younger girls were the first to play flag football, and I think their courage to begin was so inspiring to all of us.
E+: What do you hope people take away from your capabilities, especially those who may have doubted how good you'd be?
AZ: In the beginning, no one really knew what we were capable of. Growing up, I always enjoyed watching Somers football and professional football. It was not very common to see a woman on the team, and I think that as a whole we are changing that. After the jamboree, many people became aware of what we were capable of and praised us for it. All three of our coaches tell us every day how inspired they are by us and how we make them very proud to be our coaches.
EG: I think a lot of people initially saw the girls' flag football team as a joke, and it has definitely been challenging. I think that the capabilities of women are always put into question, especially in athletics, but I think seeing us excel after jumping into this with little to no experience will be eye-opening. I hope people see that women are just as capable as men. Even if they don't, I know we will all be incredibly proud of ourselves. 
E+: How does it feel to have the opportunity to be a part of this unique, new program?
GC: As a senior, I am very happy to have the opportunity to be a part of this program. Going off to college next year, I will definitely be joining the flag football team, and if they don't have one, I will make it myself.
AL: It's exciting to be a part of creating a program that provides female athletes an opportunity to get involved, work hard, and develop friendships on and off the field.
AZ: It feels great to be a part of the very first year of the program, especially having the Giants recognize this. It makes it that much better. Blake Martinez and Daniel Jones were very engaged and made us feel like this was what we were meant to do. 
The Section 1 flag football season runs through late May, ending with an open tournament. You can check out the Tuskers' schedule here.
---
Bailey Hosfelt is a full-time reporter at Examiner Media, with a special interest in LGBTQ+ issues and the environment. Originally from Connecticut and raised in West Virginia, the maternal side of their family has roots in Rye. Prior to Examiner, Bailey contributed to City Limits, where they wrote about healthcare and climate change. Bailey graduated from Fordham University with a bachelor's in journalism and currently resides in Brooklyn with their girlfriend and two cats, Lieutenant Governor and Hilma. When they're not reporting, Bailey can be found picking up free books off the street, shooting film photography, and scouring neighborhood thrift stores for the next best find. You can follow Bailey on Twitter at @baileyhosfelt.
We hope you've enjoyed today's section of Examiner+. What did you think? We love honest feedback. Tell us: examinerplus@theexaminernews.com
---
For hyperlocal news coverage of Westchester and Putnam from our four community newspapers, visit our sister site, www.theexaminernews.com
---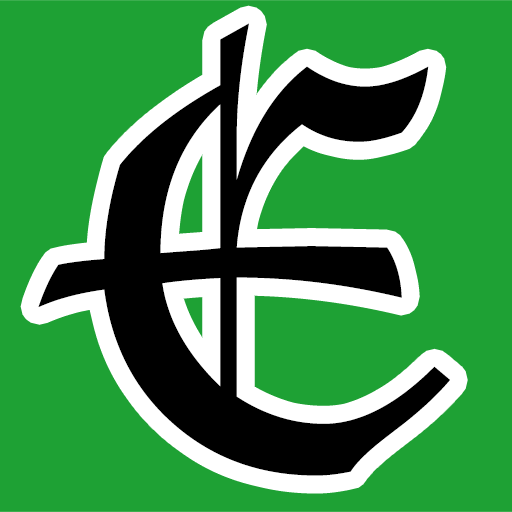 Examiner Media – Keeping you informed with professionally-reported local news, features, and sports coverage.