Five New Members Inducted into the Stepinac Hardwood Club
We are part of The Trust Project
The Stepinac High School basketball program held its 2012 Hardwood Club Dinner on Thursday, July 19. The Crusaders anointed five new members into the Stepinac Basketball Hall of Fame at the event.
Stepinac Assistant Coach Ralph Russo and Head Basketball Coach Tim Philp introduced the 2012 Stepinac Hardwood Club inductees including, Bud Tolomer, Tony Taylor ('08), and Kevin Doherty ('74). Also inducted this year were Tim Cohane (back row center), and the 1981-82 Crusaders Basketball Team. Photo by Albert Coqueran.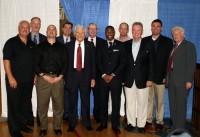 The 2012 Stepinac Hardwood Club inductees included Tony Taylor ('08), Kevin Doherty ('74), Tim Cohane ('60) and the 1981-'82 Stepinac basketball team. Also inducted was longtime league president of the Westchester Catholic Athletic Association Bud Tolomer, who received a Distinguished Service Award.
Taylor, 21 years old, is the youngest member inducted into the Stepinac Hardwood Club. "Tony is actually the first college-scholarship player that I had through high school who graduated from college. I am very proud of him," declared Stepinac Head Coach Tim Philp, who started coaching varsity basketball at Stepinac in 2004.
"Tony has meant a lot to me and to the culture of the Stepinac basketball program," continued Philp. "It is because of players like Tony, Melquan (Bolding) and Conroy (Baltimore) that we are in Class-AA today."
Taylor, a Sleepy Hollow native, is the all-time leading scorer at Stepinac with 1,473 points. Taylor still holds the scoring record at the Slam Dunk Tournament with 54 points in a game scored in 2006, which he achieved while breaking his own record the previous year of 32 points scored in a game.
Taylor also holds the record for most foul shots made in the Slam Dunk Tournament, shooting 14 for 14 in 2006. Taylor was the leading scorer in Westchester high school basketball and the entire Catholic High School Athletic Association (CHSAA) his senior year, averaging 29.3 points per game. Taylor also made a remarkable 168 three-point shots during his two and half years playing varsity basketball at Stepinac. He excelled academically at Stepinac, attaining Honor Roll status every year.
"Stepinac is my home and my family and Stepinac makes that quite clear to me," acknowledged Taylor. "It feels great to be inducted at such a young age, especially when I see many older gentleman here and considering what they went through and accomplished in life."
Taylor graduated from George Washington University on the Dean's List this year after a stellar basketball career in the Atlantic 10 Division. He was accompanied to the Stepinac Hardwood Club Dinner by his mother MaryAnn Dimmie-Taylor, his aunt Roberta "Honey" Dimmie, his brother Tyrone Carver and seven other family members.
Carver, Tony's older brother, is the head basketball coach at Mamaroneck High School. "It says a lot about Tony's character and much about the hard work that he put forth. It has been an awesome journey to watch him succeed," stated Carver, who was selected as Coach of the Year in Conference 2 Section 1 Basketball last season.
Doherty, another prolific scorer for the Crusaders, traveled from North Carolina to accept the award. Doherty, who grew-up in Elmsford, remembered winning the MVP Award in 1970 while playing for Mt. Carmel Elementary School at Stepinac High School. "I won the MVP of the JFK Tournament inside the Stepinac circle at center court and tonight I am being inducted into the Stepinac Hall of Fame in the same circle some forty years later. It is a great thrill and a great honor," proclaimed Doherty.
Tolomer, the president of the WCAA, was honored for his 55 years contributing to basketball programs in Westchester County. The Scared Heart Gym is named The Bud Tolomer Gymnasium, in honor of Tolomer's many years of contributions to youth basketball.
Tim O'Toole ('82), a 2007 Hardwood Club Inductee, was the Master of Ceremonies for the Stepinac Hardwood Club Dinner.
Tom Parrotta Comes Home to Fordham
Another Stepinac Harwood Club inductee and 1,000-point scorer, Tom Parrotta, has returned to the New York Metropolitan area.
Parrotta graduated from Stepinac High School in 1984. He played four years (1980-'84) for the Crusaders basketball team and was inducted into the Stepinac Hardwood Club in 2010.
After graduating from Stepinac, Parrotta attended and played for Fordham University from 1984 to 1988. He served as team-captain for two years and helped lead the Rams to two National Invitational Tournaments.
Parrotta graduated from Fordham with a Degree in Communications in 1991, after ranking in the top 10 in career-rebounding in the top 30 on Fordham's career-scoring list for basketball.
Presently, some 21 years later, Parrotta has returned to his college alma mater as an assistant basketball coach for Fordham University. "We are excited about Tom returning to his alma mater as part of our staff," welcomed Fordham Head Coach Tom Pecora. "Tom was a fine player at Fordham and he will excel in his position as assistant coach."
This is not the initial time that Parrotta and Pecora have worked together to progress a college basketball program. Parrotta was on Pecora's staff for five years (2001-'06), at Hofstra University.
"There are 350 Division One college basketball programs in the country," explained Parrotta. "Ultimately, the one person who stepped up and afforded me another opportunity to continue my coaching career was Tom Pecora."
Parrotta served six years (2006-'12) as the Head Coach of Canisius College before joining Fordham. At Canisius, Parrotta rejuvenated the basketball program before sustaining a devastating 5-25 season his final year at the helm.
Parrotta led the Golden Griffins to their first back-to-back 15-win seasons in 2009-'10 and 2010-'11. It was the Golden Griffins' first consecutive 15-win seasons in 13 years.
While at Canisius, Parrotta recruited White Plains High School center Rishawn Johnson in 2007. Johnson went on to graduate from Canisius in three years before pursuing his Masters Degree.