Firefighters Put Out Flames in P'ville House Fire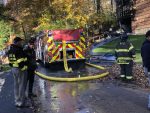 A fire that erupted at a Pleasantville home on Sunday afternoon is currently under investigation.
Pleasantville police are working with the Westchester County Cause and Origin Team, a group formulated by the Arson Task Force, to investigate the house fire on Brentwood Drive, police said. While police have yet to release any information on the fire, onlookers said they started seeing flames just after 2 p.m.
Francesca Hagadus-McHale, who lives on the street near where the fire started, said she was standing outside her home when she noticed flames shooting from a neighboring garage.
"The owner of the house was blowing leaves in his lawn, and he suddenly turned around and saw the fire and tried using a garden hose to put it out," Hagadus-McHale said. "I called 911 immediately."
She said she called for help at about 2:15 p.m. and within minutes several fire trucks were on the scene. It appeared to take firefighters close to two hours to douse the flames. Apparently, nobody was inside the house when the fire started.
"I don't know what started it, but it ruined most of the house," Hagadus-McHale said. "Then the electric exploded and then we had two more explosions. It was really bad."
Pleasantville firefighters were assisted through mutual aid by volunteer departments from Thornwood, Valhalla, Briarcliff, Chappaqua, Pocantico Hills and Millwood.
Check for updates on this story in Tuesday's print edition of The Examiner.