Fire Engulfs Pleasantville House; No Injuries Reported
We are part of The Trust Project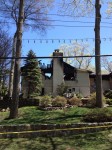 A raging fire ripped through a Pleasantville house Thursday evening, destroying about half of the structure and displacing the family who lives there.
Pleasantville firefighters arrived at 235 Lake Shore Drive at 6:55 p.m. on May 2 with about half of the house already engulfed in flames, said Fire Department Chief Manny Colmenures.
The roof collapsed on the left side of the residence and the first floor was destroyed, Colmenures said. He said there was "significant damage" to the basement and stairs. The blaze also spread across the length of the attic space, Colmenures added.
No one was home at the time of the fire, which firefighters contained within several hours. The family who has lived in the house consists of a man, a woman and two young adults.
"The key is nobody got hurt," Colmenures said. "Unfortunately, the property is what it is."
Colmenures said about 55 firefighters from six neighboring departments assisted in dousing the flames. None of the firefighters were injured although one suffered heat exhaustion. Fire personnel remained at the property until about midnight, he said.
There were charred branches on nearby trees indicating the fire shot up at least 40 feet in the air.
By late Friday morning, workers from Paul Davis Restoration were boarding up the house to prevent curious passersby from going inside the house. As of Friday afternoon, the cause of the fire had not yet been determined. The Westchester County Cause and Origin Team is in charge of the investigation to find out what ignited the blaze.
Next-door neighbor Ann-Marie Wong said at one point she was concerned the fire would spread beyond the confines of the property, but firefighters were able to isolate it. Wong has talked with the displaced family and said they are currently staying in a hotel.
"Unfortunately, bad things happen to good people," she said.