Financial Literacy Forum Seeks to Aid College Students and Families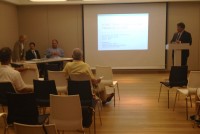 By Paige Leskin: In the wake of the continuing financial crisis in the nation, New York State Senator George Latimer (D-Rye) held a financial literacy forum last Wednesday for Westchester residents of all ages.
The forum, called "Your Dollars and $en$e", was held at the Mamaroneck Public Library. It drew about forty people and was televised on the local television station.
Senator Latimer held the talk with the goal of "helping to empower young adults and families to make smart financial decisions." As the Chairman of the Education Committee in the State Senate, he wanted to focus on students before they enter college.
"It's a real necessity to cover this when you start to have your independence," he said. "It's not automatic that you know how to do this."
Senator Latimer invited three experts in finance to speak to the attendees. They each gave their best tips and advice on budgeting money going through college and beyond.
"The financial world today is much different than a generation ago," said Suzanne Matthews. "It's important for young people to start as early as possible in learning about it."
Matthews is the Director of the Center for Financial and Economic Education at Westchester Community College, which was developed to assist the community with its financial needs and concerns. "We formed with the intention of providing resources for financial education," she said.
Matthews narrowed in on ways students in college could save money. She suggested tracking expenses and regularly saving a portion of money earned, and eliminating unnecessary costs, like Starbucks coffees and snacks.
"Learning how to manage money is one of the most important skills a person can learn," she said.
It has become increasingly necessary in today's society that the younger generation understands money. Just last Wednesday, the U.S. Senate approved a deal that would ensure lower interest rates on loans for students going to college in the fall.
This decision, which will help to make college more affordable, is crucial in many students' and families' choices of college. This is why, Dennis McDermott says, every household needs to sit down and have a conversation about money.
"Money can create friction and it can create stress," McDermott, Vice President and Community Relations Officer and JP Morgan Chase Bank, said. "One person in charge of your financial future is you," he said.
Senator Latimer recognized that this one forum would not act as a cure-all for money problems in Westchester, but it's a start.
"It opens the door for people to talk about it," he said.