FEMA Opens Disaster Recovery Center in White Plains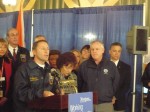 Battered Westchester County residents who suffered property losses from Hurricane Sandy are encouraged to stop by the County Center in White Plains, the site of a multi-purpose recovery center.
A Federal Emergency Management Agency disaster recovery center was officially opened after a Thursday afternoon press conference where County Executive Rob Astorino said it was "important that our citizens get back to normal."
The center will operate daily from 8 a.m. to 8 p.m. in the Little Theater on the County Center's third floor for as long as there is a need, Astorino said. FEMA will handle applications for damages that include Hurricane Sandy and Wednesday's nor'easter, treating it as one storm.
"The recovery center is a resource for people to come in and get hands on information," Astorino said.
Because Westchester was declared a disaster area by President Obama last week, residents are eligible to apply for disaster aid. FEMA strongly urges people to register in advance of visiting the disaster center and can apply for FEMA aid without going to the County Center.
If residents report to the center, they should have proof of a social security number and address with them.
Representatives from the Small Business Administration, which helps businesses apply for low-interest loans for storm-related damages, will also be on hand. A number of social service agencies will also those in the recovery process.
For more information, call 1-800-621-FEMA (3362).
Slow Recovery Continues for New Castle, North Castle
Nearly 2,700 customers remained without power on Thursday afternoon in hard hit New Castle, marking the 11th day since Hurricane Sandy hit.
Supervisor Susan Carpenter reported that 2,697 households were still out, just over 40 percent of the town.
County Legislator Michael Kaplowitz called the situation "unacceptable."
"I don't want to blame anybody. I just want our power back and that's what the job continues to be, unfortunately," Kaplowitz said.
In North Castle, Supervisor Howard Arden said last night that as of 7:30 p.m., 1,261 customers were still affected by outages, down from a post-storm high of 3,741.
"We are making some progress, not as fast as we'd like, but we are making some progress," Arden said.
On Thursday night areas of town that were still out included much of Windmill Farm, High Street/Whippoorwill Road, Chestnut Ridge Road and Route 120, said Police Sgt. James Cuffe.
He said crews have been working largely around the clock but lost about eight to 10 hours on Wednesday due to inclement weather.
Martin Wilbur contributed to this article.