Feeding Westchester Lays Out Plan to Tackle Hunger in County
News Based on facts, either observed and verified directly by the reporter, or reported and verified from knowledgeable sources.
We are part of The Trust Project
By Ryan Raicht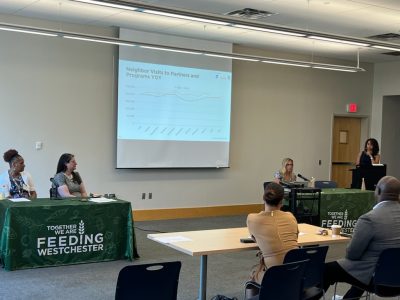 Feeding Westchester presenting a strategic plan last week to combat hunger in the county and help the thousands of residents and their families who are at constant risk of not having enough to eat.
Last Thursday the Elmsford-based food distribution organization, the Yonkers Office for the Aging and the Yonkers YMCA hosted a town hall at the Yonkers Riverfront Library to discuss the issues surrounding hunger in Westchester County and how to address the problem.
Moderating the town hall was Lucria Ortiz, president and CEO of the Yonkers Family YMCA.
"I am an ardent advocate to alleviating hunger," Ortiz said. "This topic is very personal to me. I can't tell you how many times I opened the refrigerator as a child, and it was empty. Having to go to school and live life through that is incredibly difficult."
Feeding Westchester has more than 300 partners and programs and serves on average more than 200,000 people each month throughout the county. In 2022, Feeding Westchester distributed 19 million pounds of food, which is equivalent to nearly 16 million meals.
Speakers at the forum included Karen Erren, president and CEO of Feeding Westchester, Kelly Chiarella, director of the Office for the Aging, and MaryAnn Watkins, a housing advocate for Westchester Disabled on the Move.
Erren said two out of five households in Westchester are at risk of hunger, and the need for food assistance has doubled since the onset of the pandemic. She presented Feeding Westchester's strategic plan for relieving hunger, which is a county-wide initiative.
"The goal was two-fold. The goal was first to understand hunger relief as a Westchester County system," Erren said. "Many of us are focused on our local communities, and there is great value in that. However, hunger and poverty have no municipal boundary. If someone needs food, and they live in Yonkers, it is not their top priority to ensure that they access food in Yonkers. It is their top priority to ensure that they access food."
In addition to Yonkers, the strategic plan identified Mount Vernon, New Rochelle and Ossining as having the greatest need.
The plan outlined four achievable steps in hopes of reducing the need to feed the spiraling number of people without enough to eat in Westchester. Two of the goals include conducting regular listening sessions with prospective and existing clients to understand their lived experiences and barriers to accessing food and improving the client experience by assisting partners in the areas with the highest need. That would require making changes to services based on feedback from the listening sessions that promote a dignified, respectful client experience.
The plan also listed upgrading the capacity at feeding partner distribution sites and identifying feeding partners in the highest unmet need areas. That would assist them with expanding and improving their distribution capacity so they are better able to meet the need.
Lastly, make it possible to do food recovery by having partner agencies in the highest unmet need areas to pick up, store and distribute fresh, nutritious food from local retail partners.
"There are tangible steps we, as a community, can take together to alleviate hunger, which we will continue to root in addressing the needs of our clients and unlocking the potential of our partners," Erren said.
In 2021, the Office for the Aging in Yonkers delivered 66,396 meals. Last year it rose to 71,854 and this year it is on pace to eclipse 79,000, according to Chiarella.
"The need for (a) food pantry is increasing," she said. "We are seeing more people that are looking to supplement their food supply with food pantry and specifically with produce."
Watkins touched on the difficulty that her clients have qualifying for Supplemental Nutrition Assistance Program (SNAP) benefits. Watkins works with seniors to deliver meals to their homes and various facilities that service the elderly.
"The guidelines are so crazy just to qualify for SNAP benefits," Watkins said. "I had a consumer as well as a resident that didn't meet the budget guidelines. She was over by 32 cents, and she couldn't get SNAP benefits. That's heart-wrenching."
Erren is optimistic that hunger in Westchester County will be addressed.
"Systemically, we are elevating the voices of those that have lived these experiences," she said. "We are ensuring that those are guiding our work. I am hopeful because we have strong and courageous voices in our Congress and in our Senate and in our state offices. We have those advocates."
For more information on Feeding Westchester's efforts to fight hunger in the county, visit www.feedingwestchester.org.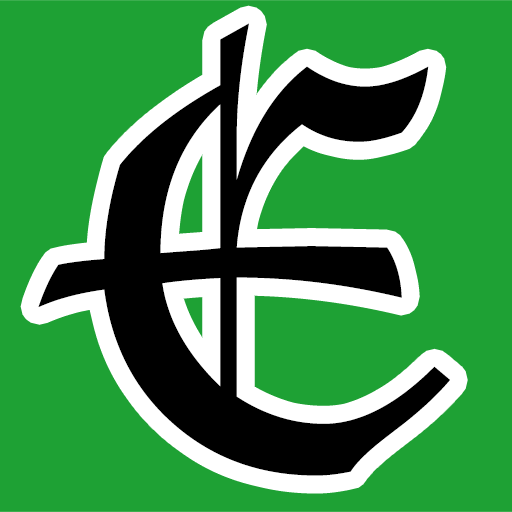 Examiner Media – Keeping you informed with professionally-reported local news, features, and sports coverage.