Father-Daughter Chappaqua Authors Collaborate on Teen Novel
We are part of The Trust Project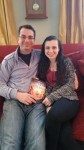 Erynn Altabef may only be a junior at Briarcliff High School, but she is now a published author.
The 16-year-old collaborated with her father, Jeff Altabef, on "Wind Catcher," the first book in a trilogy about a young Native American girl who hears voices and visions. Residents of Chappaqua, the Altabefs were influenced to write the novel while vacationing in Sedona, Ariz., two years ago.
"The Red Rocks were just so inspiring and the Native American culture was very inspiring, so we kind of used that as the muse to begin the story," Jeff Altabef explained.
He's always loved the Native American culture, but noted that many books and films depict Native Americans in a historical setting. This book, Erynn said, brings the Native American characters into a modern setting and focuses on issues that its population currently faces, such as poverty and the challenges of reservation life.
Ruby Standing Deer, an author of historical Native American fiction, read through the manuscript of "Wind Catcher" to help the Altabefs with the Native American themes.
Through their research and assistance from Standing Deer, the father-and-daughter team was able to explore aspects of the culture that many readers may be unfamiliar with. For example, certain tribes keep their hair long because it is considered a source of power and mysticism, a tidbit that is incorporated into the plot.
"All of a sudden, the stereotypical image makes sense and it's a way of educating people about some parts of that culture," Jeff Altabef said.
Although her father has previously published several adult thrillers, the book marks Erynn's first author credit. An avid reader of young adult books, she was well versed in what that audience would like and incorporated dialogue that today's teens would use.
When the pair first started working on the novel, Jeff wrote the majority of the story while his daughter read the manuscript and offered corrections and opinions. Erynn noted that she feels it's easier to be hard on her father than it would be with another collaborator.
"He has to love me, even when I'm hard on him," she joked.
They completed the second book in the series and have just sent it to the publisher. As the process progressed, Erynn advanced from giving opinions to making her own rewrites. The second part of the series features a large amount of content written by her.
The Altabefs explained that as they began to develop the plot, the story became too elaborate to be covered adequately in one volume, so they decided to expand it to a trilogy. Erynn noted that many young adult novels today are released as a series.
"Wind Catcher" will be officially released to the public on Saturday, but the book is currently available for preorder through Amazon and Barnes & Noble. It has already received several accolades, including being honored by Awesome Indies, an organization that sorts through small press publications to certify published works that are on par with those released by major publishing companies. In addition, the book received an excellence award from Mom's Choice, an organization that examines products for quality and age appropriateness.
The Altabefs agreed that "Wind Catcher" is a true young adult novel containing themes suitable for teenage readers.
To celebrate its release, Jeff and Erynn Altabef will host a book launch and signing party Saturday from 4:30 to 6:30 p.m. at Sherry B Dessert Studio at 65 King St. in Chappaqua. The event will feature desserts and coffee as well as T-shirts, posters and other items related to the book.