Family Fitness Event to Fight Pediatric Brain Tumors
We are part of The Trust Project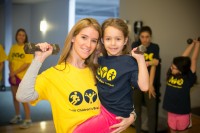 By Janine Bowen – Statistics show that every day there will be another nine families somewhere in the United States who will learn that their child has a brain or spinal cord tumor.
That's a sobering and frightening reality, but for the past four years the organizers of an annual local event have been hard at work to raise money in the fight against pediatric brain tumors.
On Sunday, local families can have fun and support a good cause at the Think Fit for Kids Family Fitness and Fun Festival. The event, scheduled for 2 to 4 p.m. at Club Fit in Briarcliff Manor, will feature a variety of phonetic and active events for all ages, including basketball clinics, Zumba classes, face painting and Gaga, a game similar to dodgeball that is played in inflatable pits.
The festival will raise money for A Kids Brain Tumor Cure Foundation, a nonprofit organization founded in 2007 to fund research for a cure for the devastating disease.
"I've had people who have seen the invitation and they reach out to me to make donations," said event director Kimberly Gilman. "I have strangers calling me saying "This is a great cause, I'd like to donate."
In past years, sports celebrities have been part of the festivities, including New York Giant Justin Tuck and former Knicks Anthony Mason, John Starks and John Wallace. Although no celebrity guests have been confirmed for this year's event, Gilman said organizers "have a few feelers out."
This Sunday will feature a silent auction where participants can bid on items such as sports memorabilia and dinner at local restaurants.
"We try and keep it fun and different each year," Gilman said. "We always have a couple of surprises up our sleeve."
All of the auction items and services at the event are donated by local residents and businesses. An event that initially only drew attention from Chappaqua and Briarcliff, Think Fit for Kids now attracts donations from all over Westchester, Gilman said.
"People have been very generous, even in this bad year," she said. "I know a lot of people were hit hard this year, businesses aren't doing great, and the donations really don't show that."
As of last Friday, donations reached $100,000, according to A Kids Brain Tumor Cure Foundation's website. All of the proceeds from the event go toward the foundation. This year's goal is to raise $350,000, which would bring the total raised by the Think Fit for Kids event in its short history to $1 million.
Attendees can donate any amount they are comfortable with, with a minimum suggested donation of $100 for adults and $50 for children under 18. Families who make the suggested donation will receive a one-month family membership to Club Fit.
People can register to attend or volunteer for the event at thinkfitforkids.org. Club Fit Briarcliff is located at 584 N. State Rd.