Familiar Figure Named Interim County Health Commish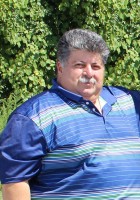 As Putnam County begins its transition to a new era in the Department of Health, a familiar and respected figure in the medical community is taking the reins as acting health commissioner.
Dr. Michael Nesheiwat of Carmel was confirmed as acting health chief by legislators last Tuesday after County Executive MaryEllen Odell selected him in the wake of former health commissioner Dr. Allen Beals being placed on administrative leave.
"I am honored to be appointed Acting Health Commissioner of the greatest county in New York, Putnam County," Dr. Nesheiwat in a press release. "I will work closely with our County Executive's office, and the outstanding Health Department staff to ensure that our citizens' health, wellness and safety needs are served well."
County Executive MaryEllen Odell called Nesheiwat an "absolutely perfect fit."
"The fact that he's lived in Putnam County his entire life, raised his family here, worked here, worked with the health department before, worked for Putnam Hospital, really makes him just the perfect individual to keep the ship heading in the interim until we find the next commissioner," Odell said.
This isn't the first time Nesheiwat has stepped into a leadership role for the health department. Back when current Personnel Director Paul Eldridge was county executive, Nesheiwat was tapped to serve as medical consultant during another transition until June 2012.
Nesheiwat has established family practices in Brewster and Somers and has been a senior attending family practitioner for Putnam Hospital Center since 1992. He serves on the PHC Board of Directors and served as chairman of its Department of Medicine for more than a decade. He's also one of three elected coroners in the county.
"I have known Dr. Michael Nesheiwat for many years and I am looking forward to working with him," said Robert Morris, Putnam County Director of Environmental Health Services in a press release. "His reputation as a professional is outstanding and he is also a pillar in the Putnam County community. As the Department begins a new chapter under his leadership, I am confident we are in very capable hands."
Nesheiwat certainly keeps busy. He's part of the Free and Accepted Masons, Shriners, Rotary Club, county correctional facility medical director and surgeon, Fraternal Order of Police, Carmel Fire Department board, and medical director/consultant for other volunteer fire departments in the county.
During his time as acting commissioner, he will suspend his membership to the county Board of Health.
Odell said the personnel department would begin advertising for a permanent health commissioner.