Failure to Pay $61G in Back Rent Dooms Louie Linguine's in Pleasantville
We are part of The Trust Project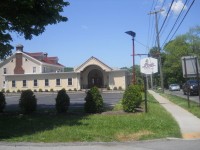 Amid eviction notices and small claims filings, a Pleasantville Italian restaurant has closed its doors.
Louie Linguine's, located at 160 Marble Ave., ceased operations several weeks ago, about six months after it opened for business. A sign had been posted at the restaurant indicating a family emergency.
The closure came less than a month after an attempted robbery occurred at the restaurant. The establishment was co-owned by Steve Cross, who owns several other restaurants in Westchester, and Beverly and Chaz Yacovelli, who are Pleasantville residents.
An eviction notice had been filed last month by 160 Marble Avenue Reality, Inc., against Pazzo Ricco LLC, a limited liability company that was set up to run the restaurant. The landlord is demanding $61,513.28 in back rent and $700 in attorney fees. A hearing is scheduled in Pleasantville Village Court next month.
Upon the restaurant's closure, three different claims were filed against Louie Linguine's, two from former employees and another from a woman who lost a $1,500 deposit for a party she hoped to have.
Kevin Dolce, a Pleasantville resident who worked at Louie Linguine's, claims the restaurant owes him $350.
"Louie Linguine's closed abruptly," Dolce wrote in his claim. "I was an employee who worked up until the closing date and I am owed money I worked for and should be given."
Eric Perlowitz, also a village resident, claims the restaurant owes him $1,376.
"I was a worker … when they unexpectedly closed and owed me wages which they did not pay me," Perlowitz's claim stated. "I was dependent on this income that I worked very hard for and deserve the money they owe me."
Valhalla resident Charlotte Withius filed the $1,500 claim after placing a deposit for a Sweet 16 party before the restaurant was shuttered. All three matters are also expected to be heard in July in the village's small claims court.
A split between Cross and the Yacovellis may be at the heart of the closure. In a letter sent to Pleasantville Village Justice John Curley in May, Cross' lawyer, Steven D. Feinstein, revealed that Cross sought the immediate dissolution of Pazzo Ricco LLC on May 21 in state Supreme Court.
"Our client wishes the Court to be aware that Mrs. Yacovelli does not speak for the Company and is not authorized to do so," Feinstein wrote.
Feinstein and the Yacovellis' lawyer, Milton Kreppel, did not respond to requests for comment. Stephen Lehrman, the lawyer for 160 Marble Avenue Reality Inc., also did not respond to messages.
Village Building Inspector Michael Testa said Cross told him that the closure was temporary and he hoped to reopen once legal issues are settled.
"It's a big parcel," Testa said of the 7,500-square-foot facility. "It has a long history. It was originally a theater, and since that point it's been a series of restaurants. I hope we can find someone to make it work. I wish the owners luck on resolving all the legal issues they have to resolve."
Louie Linguine's opened during a resurgence for Marble Avenue. A'Mangiare, a pizzeria and Italian restaurant, is expected to move from its location in the Old Village to a spot on the opposite side of the thoroughfare this summer, while Yogolicious, a yogurt shop, opened in April. Other activity in the area includes the pending move of Henckels, an international cutlery company, which bought the long-dormant MLA property last year, while Mavis Tire is undergoing renovations after a fire. Carquest also recently made repairs to its store.
Testa called the Louie Linguine's closure a disappointment.
"I wouldn't say it's a setback," he said. "There is a lot before the boards right now. Everybody is moving forward. There are some things under construction."
Chamber of Commerce President William Flooks said he hadn't heard anything about Louie Linguine's demise, but called it unfortunate.
"I've eaten there and I enjoyed the meals I had," Flooks said. "It's a shame. It was a pleasant place to be at and eat at. I'm not familiar with the restaurant business, but the square footage almost makes it impossible to earn your keep because of what you pay per square foot in Westchester."
Mayor Peter Scherer said he was sorry to see the restaurant close, as he is with any business in Pleasantville that fails.
"I am no restaurant expert other than I am happy to go to them," Scherer said. "It's a relatively big building. It probably depends on catering and special events to augment walk-in traffic."
Scherer said he is hopeful that the improvements to Marble Avenue will make the spot attractive for other enterprises to consider and continue to spur business growth on the strip.
"I am hopeful that we can make it a viable business location," Scherer said.
The village rezoned Marble Avenue in 2007, hoping to help transform a street that had residences mixed in with car-related businesses into a thriving commercial area that could serve as one of Pleasantville's gateways.