Expert on Open Government Answers Community's Questions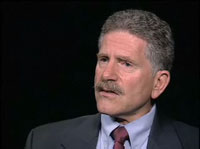 The Citizens of Philipstown recently hosted the New York State Committee on Open Government Executive Director Robert Freeman, who answered questions from local residents regarding the state's Open Meetings Law and Freedom of Information Law [FOIL].
"All we do all day everyday is offer advice to anybody who has a question about what is public and what is not….our only goal is to give what we believe to be the right answer under the law regardless of who asks the question," Freeman said in opening up the public forum. "The reality is, where the courts have reviewed our opinions they've agreed, in the neighborhood of 90 percent of the time."
Freeman said the committee has issued some 25,000 opinions regarding the access to public documents and the public's access to meetings held by governmental bodies. Freeman himself has been at the helm of the two-person government office since 1976.
Freeman shared the history in the United States of ensuring an everyday citizen's right to information.
He said in 1966, the federal Freedom of Information Act was passed and then, right on the heels of Watergate, the scandal that led to President Richard Nixon resigning from office, the law was completely revised but then vetoed by Presiden Gerald Ford, who had assumed the presidency on Nixon's departure.
"This veto was overridden by Congress. That, to my mind, was an indication of how serious both the Congress and the public were about guaranteeing a reasonable right to know what the federal government is up to," Freeman said. "Within 10 years every state had enacted access to records and open meetings laws."
Freeman said the two laws are based on "reasonableness" and "common sense" and favor disclosure and openness, over not.
"Everything is open to the extent that disclosure would hurt either somebody, in terms of invasion of privacy; the government, in terms of its ability to do its job well on behalf of the public; or, on occassion, a private company vis a vis, its competition," he said. "Chances are pretty good that disclosure should be the outcome."
Freeman said that there are eight exceptions under the Open Meetings Law that a governing body can cite as a reason to meet behind closed doors.
A favorite reason cited by many governing bodies to meet privately is "personnel," but Freeman said the word "personnel" does not appear anywhere in the Open Meetings Law and is not a reason, per se, not to have the public present.
"It's a myth," Freeman said. "Now, I grant you there are some personnel issues that may be discussed in private; but there are just as many others that have to be discussed in public."
For example, Freeman said, if a governing body discusses whether or not to continue funding a staff position, regardless if the employee who holds that position is easily indentifiable, the discussion must, by law, take place in public, as it is a matter of policy and the use of taxpayer funds.
If the discussion is about an allegation of misconduct on the part of an employee, as another example, the meeting may be conducted in private.
In the portion of the question-and-answer session with attendees that dealt with FOIL, Freeman said that the documents relating to a formal finding of misconduct by an employee of a public entity, for  example, were something the public had a right to access.
Freeman said another misguided notion on the part of public entities is the frequent denial to a request for minutes from a governing body meeting based on the assertion that they have not yet been formally approved by that body. Freeman said there is no law requiring this and that minutes for a particular meeting should be available to the public within two weeks.
Freeman said that many public entities list "litigation" as a reason to go into executive sesssion, which is one of the eight reasons a governing body may do so.
But, the specific court case that will be discussed must be made public.
Freeman also said that several decisions from state courts had ruled that the mere fear of litigation that could arise, for instance, from a governing body publicly deliberating the pros and cons of a hot topic, was not a legitimate reason to go into executive session and was a discussion that should take place before the public.
Freeman suggested that members of the public visit the committee's website, at
www.dos.ny.gov/coog/,  that includes extensive explanations of the two laws, information on how to write a FOIL and an encyclopedic archive of decisions written by the committee that address myriad issues of open government; the subjects of which are listed alphabetically for easy searches.
The entire meeting, with Freeman taking dozens of questions from local residents, can be viewed at www.citizensofphilipstown.org (click on the link for "videos.")
Freeman said while he hoped the decisions from the committee would be heeded, that they were not enforceable by law and that citizens at times may have to consider if they want to go as far as filing a lawsuit if they are denied access to public documents or to what they believe should've been an open meeting.
And there is always the ballot box, Freeman said.
"If you don't like the way your representatives are representing you, you vote the rascals out," he said.
"I don't think we do that often enough. We wimper and moan and kvetch a lot…I don't know if we assert ourselves in the utility of the democratic process nearly as much as we should."