Exhibition Illustrates the Role of Art as a Driver in Technological Innovation
We are part of The Trust Project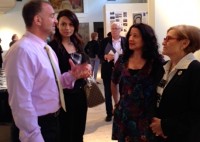 Take Science, Technology, Engineering and Math add a pinch of catalyst in the form of Art and the result is STEAM. Or, more simply put, STEM + Arts = STEAM.
If we are on the cusp of a 21st Century Renaissance as many educators believe, then it is most likely being driven by the dynamic synergy between science and art and the acknowledgement that the creativity behind cutting edge innovation comes from the common language of questioning, which is shared by artists and scientists alike.
The STEAM exhibition at ArtsWestchester opening this month "is a testament to how both art and science contribute to a world in which creativity and innovation move the paradigm forward," says ArtsWestchester CEO Janet Langsam.
Curated by Patricia Miranda and presented by ArtsWestchester, Center for the Digital Arts at Westchester Community College, and Regeneron, STEAM features the work of 31 artists that questions, challenges and re-envisions the world in which we live with the goal to show that creativity and the arts are an undeniable part of future innovation.
At a preshow walkthrough on May 7, George Yancopoulos, President Regeneron Laboratories and Chief Scientific Officer Regeneron Pharmaceuticals, Inc. said he and his company were drawn to the concept of the STEAM exhibit because they believe in the synergy between the arts and sciences, particularly the creativity in innovation. "It is in the Regeneron DNA, in the core of our company culture," Yancopoulos said. "It's not just about learning the facts, it's about putting them together in creative ways. Art and Science are two sides of the same process."
Upon viewing some of the installed works, Yancopoulos was impressed by the depth of knowledge of the artists and their expression and use of technology. "We are them and they are us," he said, positing from the side of science.
Sherry Mayo, Director, Center for the Digital Arts, Peekskill Extension, said that advocacy for arts technology and the STEAM movement is nationwide and ascribes value to the arts in and across education.
In fact, ArtsWestchester had received a grant from the federal Department of Education to teach STEM through the Arts in Mount Vernon.
Patricia Miranda, curator of the STEAM Exhibit noted that scientists and artists bring impossible dreams to life. "Artists always use cutting edge technology in their work," she said. "Some of their expression is more poetic but they all are engaging the questions of what is happening in science. To create something from nothing is to flex the creative muscle."
As an example, artist Rebecca Kamen interprets patterns normally observed only at the atomic level. Her installation, Diving Nature: An Elemental Garden, is inspired by the elements in the Periodic Table. Her work is guided by her research in chemistry, cosmology, spirituality and philosophy.
Christopher Kaczmerek has designed a site-specific, interactive piece that transforms the gallery's staircase into an interactive instrument and Maria Michails invites guests of the exhibit to climb onto a bicycle and generate the power to illuminate oversized petri dishes with glowing images of cells that have been exposed to benzene, a well-known carcinogen.
STEAM can be previewed at Family ArtsBash, Saturday, May 17 from 12 to 5 p.m. The exhibit will be on view from Tuesday, May 20 to Saturday, August 16 from 12 to 5 p.m. (Tuesday through Saturday) at ArtsWestchester, 31 Mamaroneck Avenue, White Plains.
A special workshop Education, Arts, Technology (E.A.T.) Forum will be held Tuesday, May 20 from 4 to 6:30 p.m. RSVP to gallery@artswestcester.org.
Visit www.artsw.org/steam for more information.