Esposito's Ristorante & Pizzeria, White Plains
We are part of The Trust Project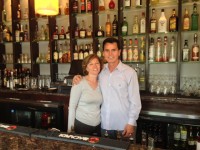 At the quieter end of Mamaroneck Avenue, but still within walking distance of the central retail district of White Plains, is a new family owned Italian-style restaurant called Esposito's. Owners Domenick and Domenica Esposito have made the art of fine food and dining their life's passion and the welcoming, yet peaceful, environment they have created offers a pleasant alternative to the hectic pace of establishments closer to the center of town.
At the ground level is a pizzeria-style restaurant with sidewalk café. Up one floor (and there is an elevator) you can almost imagine you've stepped into the Italian countryside. There is a well-stocked bar and elegant restaurant with a rooftop garden and seating under pergolas. In the evening, the garden offers a wonderful escape from the day's activities. It is quiet and bright and a nice place to mellow out and watch the sun go down.
The White Plains location is the second for this creative couple. There is another Esposito's in Valhalla, which has been open for eight years. Before that Domenick ran a pizzeria for 30 years on Knollwood Road in Greenburgh.
Excellent food aside, you'd never guess this couple had so many years of business experience behind them. They are the image of good health that comes from fine living and healthy eating. It was their oldest son Neil, who having moved into the Jefferson at 300 Mamaroneck Avenue, saw the opportunity for a new restaurant in the location left vacant by former owners.
The Espositos grow most of their own vegetables in their home garden in Yonkers. "Everything is organic," Domenick explained. "We also make our own mozzarella cheese and gnocchi (potato) pasta right here at the restaurant." The couple is also known for their tasty homemade cheesecake and pasta dishes.
Whatever does not come directly from the family garden is purchased from local farmers and fresh meat and seafood are purchased from local markets several times a week.
The menu is changed seasonally to highlight the garden harvest, and chef's specials are offered regularly.
Eggplant and zucchini rate high as popular menu selections to accompany entrees made with chicken, shrimp, sole, veal, salmon and filet mignon.
There is a range of specialty pizzas to choose from in two sizes and an appetizer menu featuring fresh mozzarella, stuffed mushrooms, calamari, clams, and hot antipasto to name just a few. One of the most popular items is the Eggplant Rollatini.
Everything is cooked to order and recipes can be modified to suit customer's particular needs.
Domenica said she is waiting for the end of June when the zucchini flowers in her garden will blossom. "There is a family recipe, a real treat," she says, that she cooks up and offers to customers at their table. It is made from the blossoms, which are lightly battered in flour and eggs and fried.
The Esposito's recently hired Jose Salazar to manage the White Plains location. Jose brings several years of experience with wine pairings and cocktail menus and has just created a specialty cocktail menu for Happy Hour (4 to 7 p.m. Monday through Friday).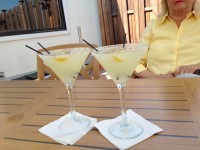 Featured at the top of the $6 martini list is the Esposito's signature Lemon Drop made with Limoncello and Absolute Citron vodka.
Domenica makes the Limoncello from scratch with fresh ingredients. She had just made a batch when we met for the interview. If you like Lemon Drop cocktails, this one may be the best you'll ever have. If you have never tasted one, then you are definitely in for a treat.
Another popular summer special is the Berry Cosmo made with Ciroc Red Berry, fresh lime juice and a splash of cranberry. "We chose these because they are refreshing drinks just right for summer," Jose explained.
New pinot noir and chardonnay selections have also recently been added to the wine list. The choices are all reasonably priced and carefully selected for quality and taste. This goes for the main menu as well. Entrees are moderately priced from $14.50 to $17.75. Appetizers run from $2.75 for garlic bread to $13 for a dozen Clams Oreganata. The Eggplant Rollatini is $7.25.
Esposito's Ristorante & Pizzeria is located at 359 Mamaroneck Avenue, White Plains. Hours are 11 a.m. to 10 p.m. Sunday to Thursday; 11 a.m. to 11 p.m. Friday and Saturday. Local delivery is available. Call 914-368-8366 or visit the website at www.espositosristorante.net to find out about catering, private parties and to view the menu.