Emergency 911 Communications Center Renamed to Honor Former Commissioner
We are part of The Trust Project
When someone leaves a mark you can feel it long after they left. Robert McMahon, former commissioner of emergency services for Putnam, left such a legacy that the Emergency 911 Communications Center was renamed The Robert McMahon Emergency 911 Communications Center last week in his honor.
"I have had the great good fortune to enjoy a number of 'highlight' moments as county executive and I must say being part of this celebration to honor Bob McMahon and re-name the 911 Communications Center to The Robert McMahon Emergency 911 Communications Center will definitely be another 'highlight' moment for me," said Putnam County Executive MaryEllen Odell at the ceremony held on Monday, Feb. 25.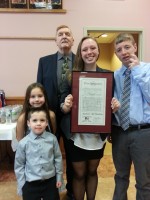 Odell recalled meeting Commissioner McMahon when she was first elected to the legislature in 2006. There she served as chairwoman on the Protective Services Committee for three years during which time she said McMahon's "door was always open and he gave me the time I needed regardless of his own schedule."
"Bob McMahon is a gentleman. He embodies professionalism," said Odell.
Assemblyman Steve Katz agreed.
"I was very pleased to hear that Putnam County's 9-1-1 Dispatch Center was renamed to honor Robert McMahon," Katz said. "Here was a man who served our citizens for over two decades in emergency services. Putnam County won't get another Bob McMahon, but that doesn't mean we can't hold him up as a shining example of public service. I'm thankful for the work Mr. McMahon did and I know the residents of Putnam are as well."
McMahon served as part-time deputy fire coordinator (July 1990 through January 1997), then as part-time fire coordinator (January 1997 through December 1999) and finally as  commissioner of emergency services (January 2000 through August 2012).
McMahon served in the Navy and retired from the Fire Department of New York. He is a registered nurse, a former chief and life member of the Lake Carmel Fire Department, a NYS and FEMA certified training instructor and a member of the board of Putnam Hospital Center.
Under his leadership, the emergency services in Putnam were greatly enhanced and eventually evolved into the Bureau of Emergency Services whose efforts have proven so effective during recent major storms in our area. Through programs McMahon initiated which focused on the advanced training and education of EMS personnel, recruitment and volunteer retention soared. Today, the Center is staffed by highly trained, dedicated and professional deputy emergency services coordinators who act as liaisons to local fire and law enforcement departments as well as to emergency management teams and various county agencies.
It was during McMahon's tenure as commissioner of emergency services that the Putnam County Fire Training Center was expanded to include a three-story multi-purpose burn building training simulator. The Training and Operations Center was constructed allowing Putnam's 911 Communications Center and the All Hazards Emergency Operations Center to be housed in a single state-of-the-art location.
Working with the county executive's office as well as the legislature, the office for aging, the sheriff's department and the health department, McMahon saw to the opening of warming centers in the winter and cooling centers in the summer for the elderly, the ill or those without electricity due to severe weather. Plans for county-wide shelters offering overnight facilities were also developed and generators were installed in many public buildings with federal grant money sought under McMahon's direction.
"His extended family of Putnam County employees and emergency services responders wishes Bob years of relaxation and peace in his retirement. He deserves it," said Odell. "Bob built a great legacy which will stand firm on his message of making sure the residents of Putnam are safe."