Elements Wins Seeding Battle in White Plains Coed D-1 Rec. Softball
We are part of The Trust Project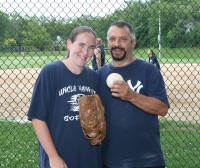 Since the inception of the Coed Leagues in 2007, Coed Softball is vastly becoming the most popular and competitive league in White Plains Recreation Softball.
Last season remains instilled in the minds of Elements players, as they lost the White Plains Recreation Coed D-1 Softball Championship, after winning the first game of the best of three-game series and were winning the second game in the last inning, when their star pitcher Wendy Bellantoni was injured and could not continue to pitch.
The result of losing Bellantoni to injury with only one out remaining to secure the Championship; Brazen Fox came back to tie the second game 3-3 in the last inning and won the game in 11 innings 6-5.
Furthermore, Brazen Fox won the third and final game of the Championship series last year to bring home the Coed D-1 Championship Trophy for the third consecutive season.
Nonetheless, this season Bellantoni is back on the mound and looking to lead Elements back to the Championship series and this time winning it. "They were so happy when I came back to play this season," smiled Bellantoni. "It was hard not being able to finish last season but we are going to comeback and take it this year," declared the Elements pitcher.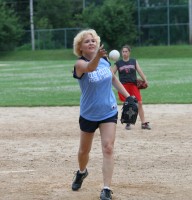 Elements record is 8-1 and they are in first place this year. The Mamaroneck Avenue restaurant had their first real test of winning the Coed D-1 Championship this season, when they matched-up against second place Dingleberries (6-2) in a game to decide the number one seed in this year's playoffs, on Wednesday, July 3, at Leslie B. Gillie Park.
Dingleberries moved up in class this season from Class B to Division 1, so their competition is stiffer this year. "We have to play the best teams, if we want to be the best team. Therefore, that is what we had to do and we need to bring our 'A' game all the time this season," stated Dingleberries Team Captain Justin Rosenhan.
Dingleberries had beaten Elements previously this year. It is Elements only loss of the season thus far. Dingleberries only loss this year before the Elements defeat on Wednesday, July 3, was to Lazy Boy Saloon.
But then again, there was one distinct difference in the previous loss Elements sustained to Dingleberries earlier this season. Yes, Bellantoni could not attend the game because of scheduling problems thus she did not pitch.
Elements won the game, 9-6, over Dingleberries behind the pitching of Bellantoni and the timely hitting of shortstop Brain McFarlane and Team Captain Chris Brown. The win secured the number one seed for Elements, in this year's White Plains Recreation Coed D-1 Softball Playoffs.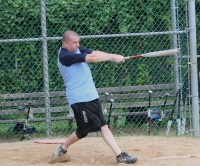 McFarlane had two doubles and three RBI in the game for Elements. "They beat us earlier in the season and we really wanted to show them that there is another team in the league, so we came out really hot today and played really competitive and won the game," said McFarlane.
Elements scored three runs in each of the second and fourth innings to break the game open. However, it was first baseman and team captain Brown's triple in the fourth inning to score McFarlane which put the game out of reach for Dingleberries, 8-3. "That was a big inning, it opened the game up and they (Dingleberries) were put under pressure to hit the ball," depicted Brown.
Regardless, in the fifth inning Dingleberries did create an opportunity to get back in the game but squandered their chance. Dingleberries pitcher Tony Napoletano hit a leadoff single and later scored on a throwing error. Then centerfielder Carlo Punzalen reached on an RBI double. Dingleberries had scored two runs in the fifth inning to make the score, 9-6, and had Punzalen at first base with only one out.
But when Dingleberries next batter third baseman Dennis Delango singled: Punzalen tried to get to third base from first base and was thrown out. Then Delango was doubled-up trying to get into scoring position at second base. "We have to talk about this as a team but you also have to have a short memory and come out next game and get it right," emphasized Delango, who also had a RBI triple in the game.
Elements second baseman Jenna Wenk shut the door on Dingleberries when she executed a textbook double-play in seventh inning. "Also, we had some great defense, Jenna making that double-play at second base in the bottom of seventh inning was huge," said Brown.
Elements is rallying around winning this year's Championship for their star pitcher Bellantoni who got injured last season. "Wendy is healthy this year which really means a lot to us, because when we lost her last season we lost our spirit, as she is the life-blood of the team, as is Chris Brown our Captain," stated McFarlane.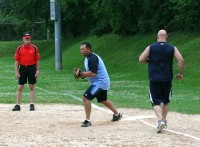 With Elements and Dingleberries placed first and second respectively so far this season, the Coed D-1 crown is shaping up to be one of these two teams to win.  "We both had one loss coming into this game, while the other teams in our league had at least three losses, it is looking like it will come down to us and them in the playoffs,"  said Elements Captain Brown.
Delango, the big third baseman for Dingleberries is looking forward to the next game against Elements. "It should be interesting, if we play good fundamental softball and do not make base running mistakes and don't throw the ball around, I think we will come out on top next time."