El Centro Hispano Honors Middle School Principal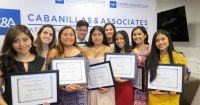 El Centro Hispano, White Plains, recognized White Plains Eastview Middle School Principal Joseph Cloherty along with nine high school scholarship winners and 15 tutors and mentors during a ceremony on June 22.
Since 1980 Centro Hispano has rewarded high school students with scholarships to help them in a very modest way continue their post-secondary education. As of 2018, $445,550 has been donated to 522 students, and since 2010 the essential work done by the tutors in the educational programs has also been rewarded.
Through the generosity of Alice Perkins, Key Bank, The Saiz Family, the Alfonso Tapia and Rose Memorial Scholarship Fund, the Schere Family and other anonymous donors, Centro Hispano gave $17,200 to the high school students and $16,800 to the tutors/mentors this year.
During the scholarship ceremony, Joe Cloherty, Principal of Eastview Middle School, was recognized for being instrumental in the education of many students in the City of White Plains and a supporter of El Centro Hispano in the White Plains School system for many years.
"He has always been there to guide us and help us in anything we have needed. He has gone beyond the call of duty to accommodate the needs of our programs," a statement from Centro Hispano's co-founder Isabel Villar said. "Thanks to him we have at Eastview three of our educational programs, and for many years were able to celebrate our heritage and culture at the White Plains Hispanic Heritage Festival, also held there.
Joe, we have no words to express to you our gratitude for your commitment, hard work and dedication to so many children, and for your loyalty and friendship all these years,"