We are part of The Trust Project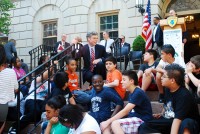 White Plains Earth Week began Monday afternoon with a ceremony on city hall steps and the planting of a sugar maple tree on the corner of Main Street and E. J. Conroy Drive. Being declared a Tree City USA for 29 years, White Plains has often been called the city in the park.
With the help of the SEEC (Sustainability and Environmental Enhancement Committee), local organizations such as the White Plains Beautification Foundation, environmentally progressive businesses in the community, several of which are sponsoring Earth Week activities, and a Department of Public Works that is way ahead of the curve on conservation, recycling, and alternative energy development, Mayor Tom Roach said he hopes to keep things going in the right direction.
Rick Hope, Deputy Commissioner of DPW, told the White Plains Examiner that the newly planted sugar maple should grow to about 70 feet. "It is a long-life tree, one that is native to the region," he said. White Plains DPW has made it policy to plant only those trees that are indigenous to the area because they support the natural eco system.
The mayor addressed the crowd that had gathered and greeted students from Eastview Middle School, who listened attentively. "It is a beautiful day for Earth Day," Roach said, "but we can also say it's a 90-degree day on April 16, so boy we'd better get to work." He thanked the many people and organizations "who are working to make White Plains more green."
"The tulips have exploded in Tibbits Park," Roach continued, "this is a sure sign for me that spring has sprung. When you see them, remember that is the result of the hard work of the White Plains Beautification Foundation."
Special awards were given to several individuals. Jason Black, of Reckson SL Green, a commercial real estate business company with an office located at 360 Hamilton Avenue in White Plains, was given the Corporate Green Award. As Director of Sustainability at Reckson, Black is responsible for ensuring the company engages in sustainable practices. "When the company moved into its new location, Black made sure that everything removed from the building was recycled," Roach said. The White Plains building has also been certified as a LEED Gold Building, by the U.S. Green Building Council, making it one of only 10 buildings in the State of New York with a LEED Existing Buildings Gold certification.
Alan Gassman, a White Plains resident, member of the Conservation Board, and a very active member of Concerned Citizens for Open Space, was given the White Plains Residential Green Award for his work to preserve a strip of property on Orchard Street near the city's watershed. This property is on the migration path of the endangered box turtle and has recently been added to the city's open space inventory. Roach thanked Gassman for working to save a valuable piece of property that had been threatened with destruction. The previous owner was interested in building several houses on the subdivision.
The White Plains Community Green Award was given to Benjamin Van Doren a White Plains High School senior who placed fifth nationally in the Intel Science Awards for his research on bird migration patterns. Mayor Roach noted that Van Doren won $30,000 for his efforts, emphasizing to the students present that money is not the only reason to be passionate about something and to work hard to achieve a goal, but that it can pay off.
The Lifetime of Green Award was given to former Councilman Dennis Power, who was credited for founding White Plains Earth Week and playing an integral role in the establishment and activities of SEEC, which he chaired in 2011. Roach said: "When Power has an interest it always comes from the heart. He has dedicated his life to doing the right thing."
Earlier in the week, County Executive Robert Astorino, named White Plains and Eco Neighbors among the winners of the county's annual awards for outstanding programs to promote waste reduction and recycling. The awards will formally be presented during Earth Day festivities on Sunday, April 22 at Kensico Plaza at 1 p.m.
White Plains Earth Week offers many activities throughout the week including the highlighted Earth Day Celebration: Celebrating all things green and sustainable a street fair held on Saturday, April 21, from noon to 4:00 p.m.
For more information visit wpbid.com.