Dr. D-LuCS, Doctor Designed Luxury Custom Shoes, White Plains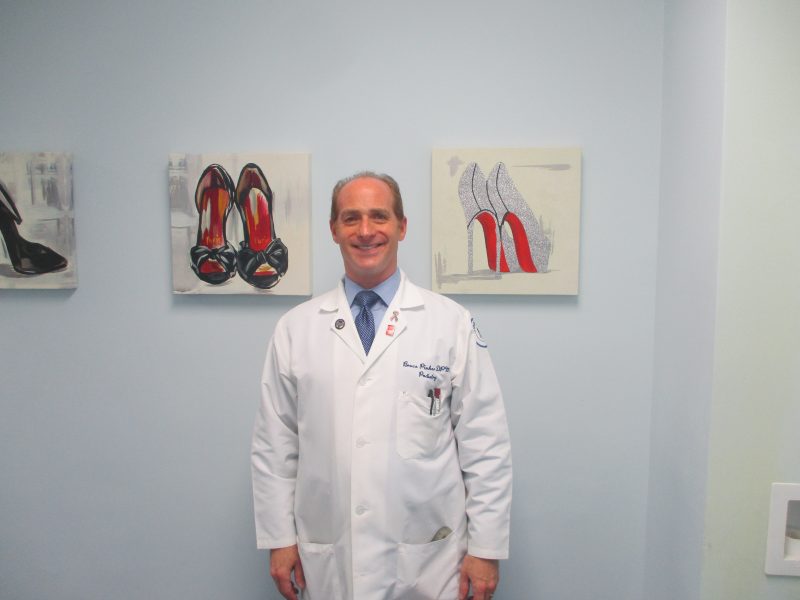 Dr. D-LuCS, Doctor Designed Luxury Custom Shoes in White Plains is not your typical shoe store.
Rather than picking out a premade pair of shoes customers design their own footwear.
The store is owned by Eastchester resident Dr. Bruce Pinker, who moved his business from Main Street to its current Church Street location in May. It is a separate business from Progressive Foot Care; though they are both located in the same offices and some clients utilize both businesses. Pinker is a podiatrist who also works at Progressive Foot Care.
Pinker described what his shoe business offers last week. "They're custom made shoes," he said. "Clients can choose what they want to wear. We try to guide them through in a thoughtful way." It usually takes two to three months for the process of producing a pair of shoes to be completed, he said.
Aside from shoes, other types of footwear can be designed including sneakers, Pinker said.
Pinker said the shoes are comfortable and safe to wear. There is an examination of the client's feet which includes a type of X ray, a sonogram and "a computerized gait analysis to evaluate the way that they walk to see if they're any deficiencies that need to be addressed," he noted. Deficiencies are typically addressed by providing a custom made orthotic, an insert placed inside the shoes "to regulate the way that the foot hits the ground," he said.
"Custom made shoes have been available for quite a while," Pinker said. "I think we do it a little bit better and a little bit differently than the average shoemaker. We have several shoemakers who work for us. We give them all the plans and instructions."
Pinker explained the importance of foot care, including the wearing of the appropriate footwear. "Your feet are your foundation for your whole body," he said. "So if there's a problem with your foot, whether it's a heel spur or an ulcer or a wound on the foot or you have just a really bad corn, it's difficult to walk. If you're not walking properly it can affect the lower back. It can cause a lot of back pain and can lead to many other issues."
Pinker will Progressive Foot Care continue a tradition for the 13th consecutive year when it conducts a holiday shoe drive for the homeless. This year's Shoe Drive Celebration to thank those who have donated footwear will be held on Dec. 11 at BLT Steak, 221 Main St. in White Plains from 6 to 8 p.m. Pinker said attendees are being asked to donate a pair of shoes at the event.
Dr. D-LuCS, Doctor Designed Luxury Custom Shoes is located at 95 Church St. in White Plains. For more information call 844-373-5827 or visit http://drd-lucs.com/. The business is also on Facebook and Twitter.