Downtown Music at Grace Celebrates 25 Years
We are part of The Trust Project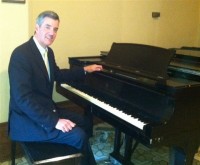 When you find yourself in need of a respite from the trials of a stressful or busy life, there is a place in downtown White Plains where the music will help you escape.
Called Noonday Getaway Concerts, these 45-minute musical gems are presented free of charge (there is an option to donate) every Wednesday at 12:10 p.m. at Grace Episcopal Church on Main Street where it meets Mamaroneck Avenue. They are the signature series of a larger program, Downtown Music at Grace, created by managing and artistic director Timothy Lewis.
Lewis sat down with The White Plains Examiner last week to tell us how the past 25 years have been and about his vision for the future of this very successful and much celebrated music program.
Lewis was initially attracted to Grace Episcopal Church in 1988 because they were installing a new French-Canadian pipe organ built outside of Montreal by a third-generation French family known worldwide for their fine craftsmanship. The church itself, built in the nineteenth century was designed specifically to enhance music and the spoken word. As well, the church houses a unique and excellent piano.
When Lewis started, Grace had no musical program. "It's a challenge to create something new every week," Lewis said, "but the reward is the look on everyone's faces when they hear the music." These programs are of a secular nature and do not include religious worship.
Lewis began by actively pursuing musicians to come to White Plains. It took a few years, but after experiencing the acoustics and the appreciation of the White Plains audiences, musicians began to approach Lewis for the opportunity to play in his programs. Today, Lewis explains, there is a year-and-a-half waiting list for musicians wanting to play at the Noonday concerts. "It helps that they are paid, " Lewis says, adding that "the musicians are able to play together in wonderful ensembles or to perform solo, which they often cannot do as part of larger orchestras. They do it for the joy of the music," he says.
Lewis has an ongoing relationship with members of the New York Metropolitan Opera Orchestra and other regional orchestras as well as professionals such as Robert Sherman who was a long-time announcer on classical music radio station WQXR.
This season most of the musical presentations have the 25-year anniversary celebration as a focus. The Weekend Discovery series, which features full-length concerts, begins on Sunday, Nov. 4. This concert brings artists from the past together to play classics including Mozart's Symphony No. 10 in G major; Wagner's Siegfried Idyll; and Prokofiev's Peter and the Wolf. Sherman will narrate Peter and the Wolf as well as a world premiere special performance created specifically for Downtown Music's 25th anniversary, written by Dina Pruzhansky, with a violin solo performed by Jeehae Lee.
Beginning in October the Manhattan School of Music Jazz Arts Program comes to Downtown Music with an evening of jazz on the third Thursday of each month of the season. These are free concerts (with a suggested $10 donation).
Lewis explains that he approaches each performance with a vision in mind and that the performers bring their own musical preferences with them. "Sometimes I say the performance will be classical of a certain type and then the performers play those pieces they are passionate about," Lewis said. The inclusion of jazz in Downtown Music's repertoire comes because Lewis feels it is the right time to bring that "truly American art form to the community."
"Everything we present must be top notch," Lewis contends. "That is my mission because I want the audience to relate to the music and disappear into it."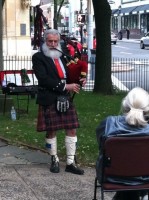 The first Noonday Getaway Concert Wednesday, Sept. 26, featured Jonathan Henken playing Sounds of the Scottish Highlands. Lewis refers to Henken as a renaissance man who performs at Carnegie Hall, played for Margaret Thatcher when she was prime minister, and is the piper for Forbes. "Forbes has a yacht called the Highlander," Lewis explained. "When the company has visitors, Henken leads them onto the boat playing the bagpipes."
The weather was very good this Wednesday and the bagpipes were played for an outdoor concert. Many people stopped on the street to enjoy the lilting sounds.
For more information about Downtown Music at Grace visit DTMusic.org or call 914-949-0384.