Dora's Pizza and Ristorante, Mohegan Lake
We are part of The Trust Project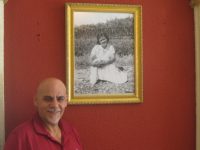 Dora Iaffaldano died18 months ago, but she is still in the heart of her son and his new business.
Bronx resident Anthony Iaffaldano opened Dora's Pizza and Ristorante in Mohegan Lake earlier this month. The eatery is named after his mother.
"When you come into the restaurant you'll see pictures of her all around," he said.
Iaffaldano was raised in Torino in northern Italy and his family moved to the United States in the Bronx in 1971. He described the fare served at Dora's as "traditional southern style Italian cooking."
"Northern Italian is much more cream-based. It's got a lot of French influence," Iaffaldano said. "Southern is more rustic with lots of seasonal vegetables."
Iaffaldano said he chose the Route 6 location for his restaurant because of his fiancée Christine Ceglio, who formerly lived in Mohegan Lake. One of her friends informed her that the building was vacant and he and his bride-to-be "loved the location," Iaffaldano said.
Iaffaldano closed the restaurant he owned in Mount Vernon for 27 years to come up to Westchester.
Dora's offers a variety of pizzas, including pizzettas, which Iaffaldano described as small pizzas that can be shared as an appetizer or eaten by themselves as a meal. The Dora's pizzetta includes arugula, crumbled gorgonzola cheese, prosciutto and figs. Dora's pan pizzas feature a round, thick crusts and focaccia, which are made with a thick crust, olive oil, sliced tomatoes, garlic and Italian seasonings.
The menu includes several antipasti selections, entrée sized salads, and many main course options, including rack of lamb, New York strip steak, and chicken dishes. Seafood is also an option. Iaffaldano said currently on the seafood menu are salmon and tilapia. "When we start doing the specials we're going to be doing seasonal fishes that are fresh from the market (in the Bronx)," he said.
Also offered at Dora's are calzones, heroes, and Paninis. Two of the desert offerings are cannolis, which feature shells and filling purchased fresh from the Fleetwood Bakery in Mount Vernon, and Dora's Nutella Pizza, which is a pizza crust baked with the hazelnut and chocolate spread, topped off with an in-house made Nutella whipped cream. The Nutella pizza was described by Iaffaldano as "our signature dessert."
Dora's patrons can eat indoors or outdoors or order take out. In the near future, the restaurant will start a delivery service. After Dora's obtains it state liquor license, it will over an extensive selection of Italian boutique wines, Iaffaldano said.
"What we're about at this restaurant is based on my mother with traditional recipes, that's where I learned it from." Iaffaldano said. "We added our own little twists from 35 years of being in the pizza and restaurant business and it's a family-style atmosphere."
Dora's Pizza and Ristorante is located at 1859 E. Main St. in Mohegan Lake. For more information, call 914-743-1888, visit http://doraspizza.com or send an e-mail to info@doraspizza.com.