Doo Wopp Show Saturday at Paramount in Peekskill
We are part of The Trust Project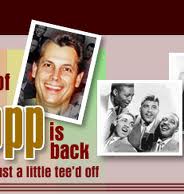 On Saturday, September 21, theParamount Hudson Valley is presenting a
phenomenal Doo Wopp show created by the Godfather himself of Doo Wopp Tony Delauro.
Delauro created the Original New York Doo-Wopp Show, at Radio City Music Hall. From 1980 to 2002 this was the most successful, authentic and popular show of its kind. More than 100 groups from the 1950's and early 60's classic harmony era were presented plus a host of a cappella groups from around the world. As the second longest running production at the music hall, behind the Christmas spectacular, this show was acclaimed by critics as the purest and most authentic approach to that era's music and for the spectacle of the presentation.
Delauro has designed a special show for the Paramount to celebrate its reopening.  The performers include the classic sounds of Charlie Thomas' Drifters, Jay Siegel's Tokens featuring Jay Traynor of Jay and the Americans, Larry Chance & the EARLS, The Whiptones, and The Classic Sounds.
The show kicks off at 8 p.m. Tickets range from $35 to $50. For more information, call 914-739-0039 or visit www.paramounthudsonvalley.com.