Dodd's Wine Shop, Millwood
We are part of The Trust Project
Having run Dodd's Wine Shop in Millwood for 40 years, Dodd Farber knows what it takes to create a winning business.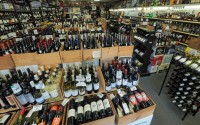 The liquor store, located in the Millwood Shopping Center, is a popular destination for locals, but what makes Dodd's stand out from the rest of the field is the individual attention that every customer receives.
Farber was familiar with the liquor store business before purchasing the shop in 1972 because his father owned a store on Long Island where he grew up.
But Farber wasn't interested in going into the business directly out of college. Instead, he opted to earn his MBA and then spent several years working on Wall Street. He then relocated to Westchester.
Sitting behind his desk at the back of the store surrounded by ledgers and stacks of papers, Farber is proud of the business he has built.
"For me, it's all about being hands on and taking care of customers as individuals," Farber said. "We are not a commodities type of operation."
Customers can choose from over 2,200 different items at Dodd's Wine Shop, which includes name brands as well as several boutique items. Brands that are currently popular with customers include the Veuve Clicquot Brut "Yellow Label" champagne for $39.99; the Korbel Brut, another champagne, for $10.99; and the 2012 B.V. Tapestry cabernet sauvignon for $25.99.
Other popular items currently available and included in the store's holiday wine and liquor sale are Cavit Pinot Grigio for $11.99; Grey Goose Vodka for $49.99; Dewar's Scotch or Johnnie Walker Red for $32.99; Johnnie Walker Blue for $169.99; Jack Daniel's for $45.99; Il Poggione vintage wine for $69.99; and a range of other labels that are being sold for between $5.99 and $10.99 a bottle.
Before anything is put on the shelves at Dodd's Wine Shop, Farber said it is thoroughly checked out by him and his staff.
"We will not buy anything unless we taste it first, which means that we have to be happy with it before recommending it to our customers," said Farber, who owns a nearby warehouse where large volumes of wine and liquor are stored.
Farber also said he chooses wines and other products with his customers' tastes in mind. The store's employees have also been known to track down difficult-to-find products, to purchase wines they think customers will like and also to keep customers apprised of special orders.
"I like to think of ourselves as the 'Cheers' of the wine business," added Farber, "with everybody knowing our name and knowing that we will take care of them on an individual basis."
Dodd's Wine Shop is located at 230 Saw Mill River Rd. in Millwood. Check out its website at www.doddswineshop.com or call 914-236-5809 for more information. e store is open Monday through Saturday from 9 a.m. to 8 p.m. and on Sundays from 12 to 5 p.m.