Documentary Screening to Honor Memory of Millions Killed in Holocaust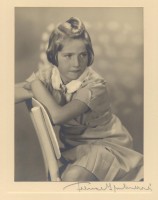 In observance of Holocaust Remembrance Day the Mahopac Public Library will screen the poignant documentary feature film "Inside Hana's Suitcase"at 7p.m. on  Thursday, April 19, which will be followed by a brief discussion led by Rabbi Etyan Hammerman of Temple Beth Shalom.
This special Holocaust Remembrance event is presented in cooperation with Lake Mahopac United Methodist Church, Temple Beth Shalom, First Presbyterian Church, the Church of St. John the Evangelist, the Church of the Holy Communion, and Mt. Hope United Methodist Church. 
This film tells the present-day story of "The Small Wings", a group of Japanese children, and their passionate teacher, Fumiko Ishioka, who helped them solve the mystery of Hana Brady, whose name was painted on an old battered suitcase that they received from Auschwitz, the notorious Nazi death camp.
In the spring of 2000, Fumiko Ishioka, the curator of a small Holocaust education center for children in Tokyo, received a very special shipment for an exhibit she was planning. She had asked the curators at the Auschwitz museum if she could borrow some artifacts connected to the experience of children at the camp. Among the items she received was an empty suitcase. From the moment she saw it, Fumiko was captivated by the writing on the outside that identified its owner – Hana Brady, May 16, 1931, Waisenkind (the German word for orphan). Children visiting the centre were full of questions. Who was Hana Brady? Where did she come from? What was she like? How did Hana become an orphan? What happened to her?
Fueled by the children's curiosity and her own need to know, Fumiko began a year of detective work, scouring the world for clues to the story of Hana Brady. They discover that young Hana Brady was a fun-loving child with a passion for ice skating. The students also learn of Hana's loving parents and her older brother, George, and find out how the family's happy life in a small town was turned upside down by the invasion of the Nazis.
Yom HaShoah, or Holocaust Remembrance Day, marks the mourning for the millions who perished in the Holocaust; six million Jews, and five million others killed, tens of thousands of Roma, along with gays and lesbians, disabled people, Communist sympathizers, and others the Nazis considered "inferior." If our memory of the Holocaust is to have any meaning, it must impel us to act against other attempted genocides.
"We respond to the Holocaust with devastation, and outrage, and sorrow: and we must also respond by wiping genocide from the face of the earth," read a statement from the library announcing the screening of the film.
"Inside Hana's Suitcase" is appropriate for ages 10 and up; registration for this free screening is required.  Register online at www.mahopaclibrary.org, or call 845-628-2009, ext 100.