Dining Out Suggestions for Mother's Day
MENU MOVERS & SHAKERS
BY MORRIS GUT
Mom deserves her special day. If you are planning to dine out on Mother's Day, Sunday, May 14, here are a few suggestions in greater Westchester that cover a wide variety of tastes. Special Hint: Mother's Day is a big restaurant day, so be sure to reserve a table early. If possible, you can even take Mom out before or after actual Mother's Day to keep it less stressful. Enjoy!
Emilio's, 1 Colonial Place, Harrison, 914-835-3100. Mother's Day seatings will begin at 2 p.m. The Brasesco family of Emilio's is marking 38 years in this vintage century old colonial house serving what many Italian food aficionados praise as the most authentic regional Italian cooking in the area. An arresting multi-color antipasti table selection, Mama Lidia's fresh house made pastas, and a dynamic seasonal menu to boot. Check out such changing house specialties as: Pasta Carciofi; Panzerotti Salsa di Noci, ricotta and Swiss chard filled pillows served in a walnut cream sauce; Pollo Scarpariello served on the bone with sweet sausage and broccoli rabe; Roasted Rack of Pork; Halibut with blood orange; and Arrosto di Agnello. Full bar. Extensive wine list too. Al fresco seating on the porch, weather permitting. Private party facilities. Open Tuesday through Sunday. Free parking. www.emilioristorante.com.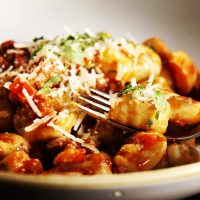 Tredici North, 578 Anderson Hill Road, Purchase, 914-997-4113. Mother's Day Brunch will be served from 11:30 a.m. to 3 p.m. Dinner from 4 p.m. to 9 p.m. This modern Italian restaurant serves a robust menu of signature specialties by talented Chef Giuseppe Fanelli. There is a bustling main dining room with white leather high back chairs and a more intimate room upstairs with windows overlooking the wooded surroundings. Let general manager Michael Colucci and his team take you on a most flavorful tour: Inside Out Meatballs, Brussels Sprout Salad, Angry Lobster, Kobe Beef Ravioli, Frenched Chicken Scarpariello-style, and their extraordinary house made Pappardelle with smoked duck. There's even a Fat Bastard Burger loaded with the works, if you wish. Open 7 days a week for lunch and dinner. Attractive bar/lounge with seating for 10. www.tredicinorth.com.
Benjamin's Steakhouse, 610 West Hartsdale Ave., White Plains, 914-428-6868. Proprietor Benjamin Prelvukaj will be serving special prix fixe 3-course dinners on Mother's Day along with their regular a la carte menu. The prix fixe will be $59.95 per person, before cocktails, tax and gratuity. Seatings will start at noon. The dry aged steaks like the Porterhouse, Rib Eye and Rack of Lamb are deliciously tender. The salmon and Chilean sea bass are top of the line, too. Look for such additional house specialties as: Classic Caesar Salad, and New York Strip Sirloin. Their clubby dark wood floors, fireplace, banquette seating and chocolate leather chairs make for a comfortable setting. The bar/lounge is highlighted by a stunning glass-enclosed wine room. The professional staff keep it all very accommodating. Free and valet parking. www.benjaminsteakhouse.com.
Artie's Steak & Seafood, 394 City Island Ave., Bronx, 718-885-9885. Special menu on Mother's Day. Owner Spiro Chagares and his staff offer patrons an inspired melding of traditional and contemporary dishes served with flair. Sit back in one of several dining areas and enjoy such changing specialties as: hearty Seafood Chowders; Smoked Salmon Roll-Ups; Wood Grilled Jumbo Shrimp and Scallops; hunks of tender Short Rib; a massive Zuppa Di Pesce; tender Oven Roasted Rack of Lamb; Chardonnay Poached Salmon with seafood; and fresh Lobster prepared in a variety of styles. There's a loaded Lobster Salad Roll at lunch and their Mediterranean style Pizzas are good to share, too. Check out the redesigned bar/lounge most evenings for good networking. Private party facilities. Off premise catering. Open 7 days. Free parking. www.artiescityisland.com.
Ernesto's Ristorante, 130 W. Post Road, White Plains, 914-421-1414. Genial hosts Ernesto Capalbo and Charlie Gambino will be serving a special 3-course Mother's Day option for $40 all day, along with the regular a la carte menu. Generously plated main courses include: Veal Chop Valdostana topped with prosciutto, mozzarella and mushroom sauce; traditional Costolette di Maiale all' Aceto, double cut pork chops with sweet or hot vinegar peppers, chardonnay, caramelized onion, garlic and beef stock sauce; a fine version of Filet of Sole Francese in a white wine and lemon sauce; and their signature Combinazione Oreganate, with shrimp, jumbo sea scallops broiled with chardonnay wine, lemon, fresh herbs, touch of garlic and seasoned bread crumbs. The spirited bar area offers happy hours Tuesday through Saturday, 3 to 7 p.m. with reasonably priced beers, wines and $5 martinis. It is a good spot for networking. Piano Bar. Free and municipal parking. www.ernestosristorante.com.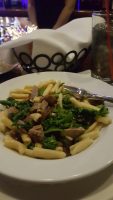 Tesoro D'Italia, 160 Marble Ave., Pleasantville, 914-579-2126. A veteran restaurant team has pooled their years in the hospitality business and opened Tesoro D'Italia Ristorante, a casual family-friendly Italian eatery on Marble Ave. in Pleasantville. The sprawling space had previously operated as Trattoria 160. Heading the day-to-day operation is Peter Lucaj who had been general manager of Ciao Ristorante in Eastchester for 16 years. Chef de Cuisine is seasoned Dan Pennacchio whose family from father Paolo and siblings on down have been in the restaurant trade for many years. The restaurant is divided into a main dining room for 100 guests, a semi-private fireplace room for up to 40 guests, and a lovely glass enclosed wine room seating up to 25. There is an inviting color-tiled bar/lounge area for networking and spirited conversation, and casual dining too. A dramatic wine wall highlights the dining room along with smoked glass dividers and white tablecloths. Grey and white hues help polish the space. Check out such delightful specialties as: Eggplant Rollatini; Rotelli Melanzana, Chicken Payard, and Broiled Veal Chop. Open 7 days. Ample free parking. www.tesoroditaliany.com.
Dubrovnik, 721 Main Street, New Rochelle, 914-637-3777. An a la carte Mother's Day menu will be served along with traditional specialties. Jerry Tomic, a native of Croatia, always dreamed of bringing a true taste of the Adriatic to Westchester. Talented Chef Antonio Selendic mans the kitchen and he will transport you to the beautiful Dalmatian Coast in flavorful style. Jerry Tomic and managing partner Nada Bernic insist in sourcing all the finest ingredients in the seasonal marketplace. Most everything is house made from the bread to desserts. Try the Warm Octopus Salad; Steamed Mussels; Bay Scallops on the Shell; Fresh Cod Filet with grapes, olives, pearl onions; Mama Tereza's lobster, shrimp, scallops, fish, clams and mussels steamed in a seasonal broth over pasta; Grilled Rack of Lamb; or whole roasted fish prepared out on the BBQ. "Fresh food, simply prepared is the Croatian way", says Tomic. Open 7 days for lunch and dinner. Outdoor deck. Reservations suggested. Private party facilities. Valet parking.
Moderne Barn, 430 Bedford Road (Rt. 22), Armonk, 914-730-0001. The Livanos family's sweeping multi-level country chic restaurant along Rt. 22 will be serving a 3-course Mother's Day menu by Chef Ethan Kostbar. The menu focuses on American cuisine with global influences. Look for such specialties as: Nonna's Meatballs, Hawaiian Tuna Poke, Thick Cut Pork Chops, Grilled Atlantic Salmon, Seafood Risotto, and Roasted Firebird Chicken. For dessert indulge in Passion Fruit Crème Brulee or Meyer Lemon Cheesecake. Mother's Day seatings noon to 8 p.m. Cost is $62 per person; $25 children under 12. www.modernebarn.com.
Morris Gut is a restaurant marketing consultant and former restaurant trade magazine editor. He has been tracking and writing about the food and dining scene in greater Westchester for over 30 years. He may be reached at: 914-235-6591. E-mail: gutreactions@optonline.net.