Devastating Fire Ravages Mount Kisco's Mast Market
News Based on facts, either observed and verified directly by the reporter, or reported and verified from knowledgeable sources.
We are part of The Trust Project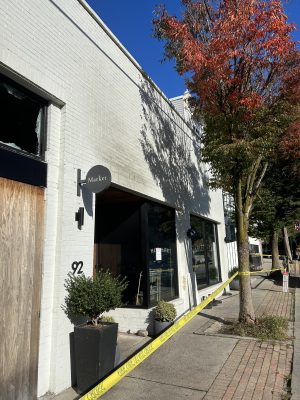 Mount Kisco residents awoke to a heart-wrenching scene this morning as a ferocious fire tore through Mast Market overnight, destroying the popular local organic market and cafe.
Witnesses at the scene this morning reported that the Mount Kisco Fire Department, joined by other fire departments, sprang into action around midnight to battle the flames.
Sources said there were no injuries. However, the extent of the damage suggests that the business will face a significant period of closure and recovery.
Local restoration firm SERVPRO of Northern Westchester County was quick to respond, dispatched at about 5 a.m. to the 92 S. Moger Ave. location, a representative from the firm told a reporter this morning.
Observers hailed the collaborative response of the fire departments, noting how the swift action likely prevented the fire from spreading to neighboring residential units.
Inside Mast Market, the flames posed an additional challenge due to the presence of heavy-duty equipment essential for cooking and production processes, representing a substantial financial investment for the business.
Brothers Rick and Michael Mast operate the business. One of the brothers declined comment at the scene this morning.
Mast Market had become a fixture in the community, a gathering place where residents converged to socialize, work, and savor high-quality food and drink.
The market even captured the attention of local celebrity Martha Stewart.
"Mast Market is a very good thing, indeed," she says on the business's website.
This story is developing, check back for updates.