Determined 8 Year Old Wants to Bash Cancer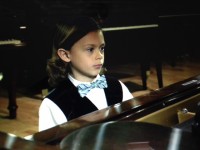 Tarrytown resident Sebastian Ore has teamed up with his father Sandro Ore to "Bash" cancer and help his two grandfathers pay for treatments as they fight different forms of the disease.
The determined youngster wanted to find a way to do something constructive and in conversations with his father decided that if he played music and people listened, maybe they would be inclined to send donations to help pay for treatments and home care for his grandfathers.
Sebastian was set on finding a way to do his part to help.
With the nickname "Bash" given to him by a younger relative who could not quite pronounce Sebastian, he had the beginnings of a good campaign name, especially when it is combined with the word "cancer."
Sandro, a marketing professional, decided the two worked together well. He had some experience with crowdfunding and thought an online campaign might work. He enlisted the help of colleague and filmmaker TJ Allan and since Sebastian had been learning to play the piano, Faust Harrison Pianos made some of their instruments available for the music videos featuring Sebastian.
The online campaign was launched on August 5, Sebastian's eighth birthday, and can be viewed at www.BashCancer.org, Facebook, YouTube and Twitter.
Allan, who directed the videos said: "The idea to create a project for a child to channel his grief in a positive way and actually do something to help his family is what moved me. I was touched by the idea so I offered to produce Bash's piano videos and to help in any way I could."
Despite the positive attitude and support from the community and friends that the family has received, there is an on-going concern about the medical bills from the intensive treatments, which have surpassed $300,000. That is why Bash and his Dad launched the recovery fund.
"The medical bills are big, there's no denying that," says Sandro, "but equally important to me, was to do something to teach my son that he is not helpless. Kids should not feel that way. This project has brought us closer together and hopefully it is teaching him, and kids everywhere, that putting their ideas and talents to work can make the world a better place."
To view Sebastian's videos or make a donation visit www.BashCancer.org.