Despite Rainouts White Plains Baseball and Softball Open 2017 Season
We are part of The Trust Project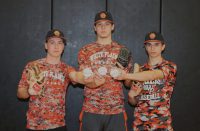 As rain and blustery winds raised havoc throughout the high school Spring Sports schedules, the White Plains High School Baseball and Softball Teams managed to open their 2017 seasons.
The Tigers Baseball Team was able to complete two games on their 2017 schedule before departing to play in the Hanahan Invitational Tournament (H.I.T.), in Charleston, South Carolina from Saturday, April 8 – Thursday, April 13.
The Tigers opened the season on the road with a 4-0 win against Suffern High School, in Suffern, on Monday, April 3. Tigers' pitcher and Team Captain senior Gehrig Hauser secured the win with a shutout performance. "The fact that we have Spencer (Lodes) and Mike (Attonito) on our pitching staff and me as well, it should be a good three and I am excited about this year," commented Hauser.
However, the Tigers started the season dealing with some adversity, as their ace pitcher junior Spencer Lodes has been shutdown temporarily with a sore shoulder. Lodes, the hard throwing righty and Division 1 college prospect, is playing first base and batting cleanup but he will not take the mound for at least another couple of weeks.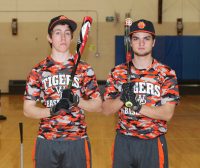 "Spencer just had some tightness in his shoulder, so it was more precautionary on our part just to make sure that we have him at full strength before we run him out there and possibly injuring himself further," explained Tigers Head Coach Marcel Galligani.
Nonetheless, as nobody desires to see a young man with a promising future injured, the Tigers may have found another young pitcher with a promising future during Lodes' absence from the mound.
"It has been almost a blessing and a curse, a blessing because it gave some other players the opportunity to perform and it allows us to find out what kind of depth we have as a pitching staff. But obviously you always want to have your number one ready to go," said Galligani.
The Tigers Home Opener was originally scheduled against Yorktown High School on Thursday, April 6. But with the season opener already rained-out at Arlington High School on Thursday, March 30 and downpours predicted to cancel the Home Opener on April 6, Galligani adjusted his schedule and moved the Home Opener to a day earlier and brought in Mt. Vernon High School to face the Tigers on Wednesday, April 5.
To fill the void of Lodes being scratched in the starting rotation, Galligani decided to give the ball to junior pitcher Michael Attonito. To say the least, Galligani and his coaching staff were very pleasantly surprised when not only did Attonito shutout the Knights, 10-0, but he pitched a complete-game No-Hitter, in his first varsity baseball game.
"We got a really good look at Michael. I don't know how much more we could have asked of him than to throw a No-Hitter in his first varsity start," praised Galligani. Attonito practicing in the gym the very next day seemed to take the monumental accomplishment in stride. "It felt great. I was just trying to come out as strong as I could and not over think anything and just put the ball where I know I could put it," said Attonito.
Therefore, the Tigers begin their 2017 campaign unblemished with a 2-0 record.
Last season, the Tigers finished the season 13-5-1 overall and 7-3 AA, while losing to Horace Greely in the First Round of the Section 1 AA Playoffs.
Who could forget that home-and-away series when the Tigers met up with Mamaroneck pitcher Bill Flatow and lost both games, missing out on the League Title in the final game of the regular season?
"When it initially happened, it was something on my mind regularly, but we turned the page. In baseball, especially, you cannot dwell on failure, as it will eat you alive, so we just look forward and write a new chapter this season," said Galligani.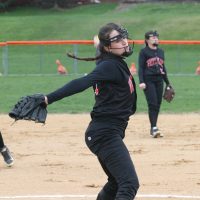 The Tigers Softball Team also started their 2017 season on the road against Clarkstown South. The Lady Tigers lost to the Vikings 7-4, on Wednesday, March 29, in West Nyack.
After a rainout on March 31, against Mahopac High School, the Tigers dodged the inclement weather to get another game in against Briarcliff High School on Monday, April 3. The Lady Tigers lost in dramatic fashion, 10-9, on a walk-off hit in the last inning by Bears Jackie Contento.
Both the Tigers Softball home games this season were rained out including their Home Opener against Port Chester High School, scheduled for Tuesday, April 4. The Lady Tigers began their 2017 campaign 0-2, before they departed for Orlando, Florida, on Saturday for Disney Spring Training with 10 scrimmages on their schedule.