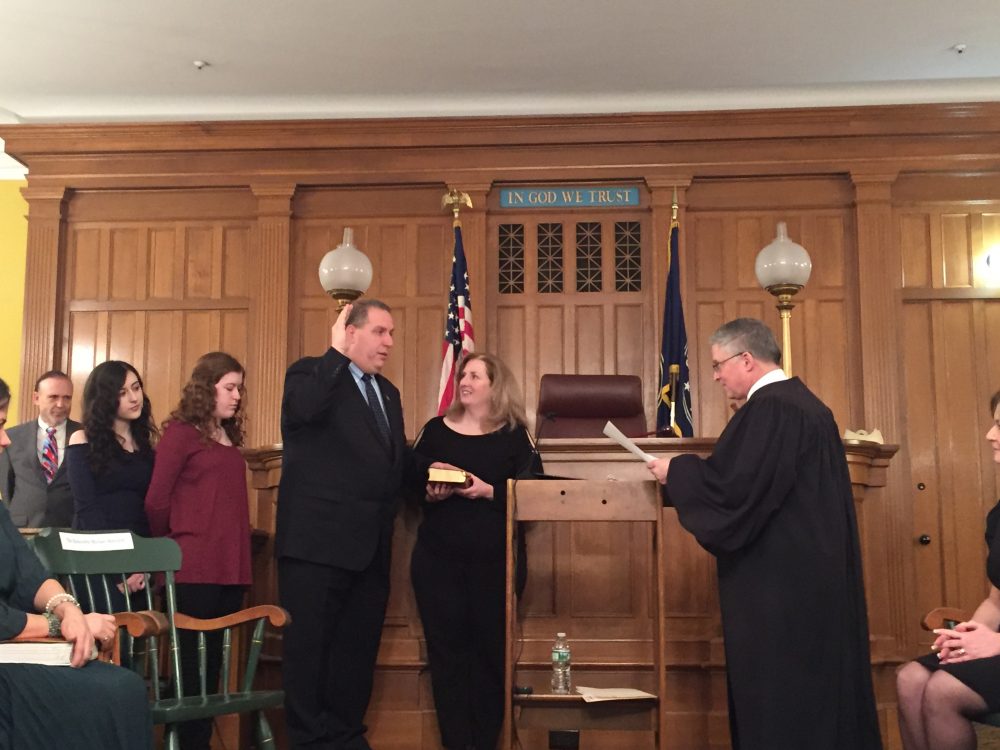 For the first time in four years, a Democrat was sworn in to serve on the Putnam County Legislature after Nancy Montgomery took her oath of office on New Year's Eve.
Receiving the loudest ovation of the night, Montgomery, formerly a Philipstown councilwoman, was sworn in by Sheriff Robert Langley, who was the first Democrat in ages to take a countywide office the previous year. Montgomery knocked off GOP incumbent Barbara Scuccimarra to take the District 1 seat that represents Philipstown and a slice of Putnam Valley.
"Service is the key to heaven as we say so help me God in this position that we're in," she said. "I truly believe I've been given this wonderful opportunity and the honor to serve you in Putnam County."
Montgomery, who will be the only Democrat on the nine-person body, said she looks forward to being of service to her colleagues since they all should be working toward the same goals. Montgomery noted she wakes up and says a Thanksgiving address written by the Iroquois and was wearing a mochila made by the indigenous people during the ceremony.
"It's one of those things we learn from the indigenous people and the Iroquois how important service is," she said. "It really is the root of getting to know your neighbor and getting to know what we can do in our society to make it a better world for everybody so I'm really looking forward to doing that for all of you."
Two Republican incumbents were sworn in for their third terms. Legislature Chairman Joe Castellano and Legislator (and former chairwoman) Ginny Nacerino took their oaths of office.
Nacerino, who was sworn in by Patterson Judge Anthony Mole, said the night was one to celebrate success. She said her position was not just a job, but a dedication to the people she serves in the Town of Patterson. She said the legislature, along with County Executive MaryEllen Odell, has change the culture in Putnam for the better, taking social and fiscal responsibilities seriously.
"For me, public service has been the essence of gratification and I take liberty that it rings true for all the dignitaries here," Nacerino said.
Castellano, who was sworn in by county Judge James Reitz, was visibly emotional talking about how he is the son of immigrants and his love for Putnam.
"I'm truly honored to be in front of you tonight," he said. "Three years ago it was emotional and I'm still emotional."
Living in the county for the last two decades, Castellano, who represents Southeast and the Village of Brewster, said Putnam is a great place to raise a family and he was ready for the year ahead.
"Looking forward to the challenges ahead," he said.