Dem. Jumps Into Race for Carmel Town Board
We are part of The Trust Project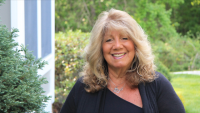 For the first time in a long time, a Democrat is gearing up to run for the Carmel town board.
Judie Mirra, who recently retired from her elementary school teaching position, announced her candidacy for the town board last week in a press release sent out by the Carmel Democratic Committee. Mirra, a Democrat, joins an already intriguing race where three Republicans could be on course for a primary in September.
"Carmel is such a wonderful community," Mirra said in the press release. "But I think there is always room for improvement, with new voices and ideas."
As a new voice in the race, Mirra said she's concerned that older children in town don't have the opportunities to "engage and thrive" and wants to see the drug problem rampant in Putnam County addressed more by the local government. When discussing the proposed town recreation center, she said the planning needs to be carefully done so it benefits as many children and community members as possible.
Two town board seats are up for grabs this year with Republican councilmembers Frank Lombardi and Suzi McDonough looking to retain their spots. Republican and political outsider Michael Barile is running and was actually endorsed by the Carmel Republican Committee earlier this month along with Lombardi. McDonough won't let that deter her though, as it appears she plans to go ahead with a reelection campaign. (Former town councilman and county legislator Anthony DiCarlo sought the Republican nomination but has since dropped out after not getting enough committee votes, according to his former running mate Barile.)
Mirra moved to Carmel from Yorktown eight years ago because she said she wanted her grandchild to grow up in the "perfect place."
"I want to be part of a town government that does its best to help support our seniors and working families," Mirra said.