DeKalb Residential Project To Get Property Add
We are part of The Trust Project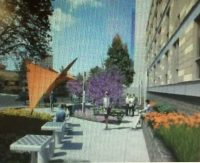 During the October meeting of the White Plains Planning Board, the board agreed to recommend to the White Plains Common Council a change to the city's map to allot 4,300 square feet of property at One DeKalb to the developer.
The land, according to William Null, representing the landowner (One DeKalb LLC), is no longer part of the public right of way and would be made into publicly accessible open space. Chess tables, a public amphitheater, seating and shade areas have been built in to the design of the park, which would be 7,000 square feet.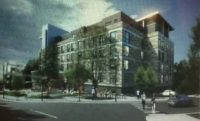 The board also agreed to recommend a Special Permit be granted for the height of the residential building at the same location to increase to six floors. Two levels of parking would be located below the four levels of 77 multi-family residential units.
The roof would include a walkable green roof area and vegetable garden for residents.
Impressed with the overall design of the development, the board agreed to suggest the project move forward.
At the same meeting, the Planning Board discussed a request by the Common Council to provide annual reports regarding development projects within the city and their compliance with recommendations made by the city's Comprehensive Plan. The board is expected to complete the report by November 2016.
Members discussed taking separate sections for review as a step one initiative to be followed by a more formal analysis of the need for an overhaul of the existing Comprehensive Plan.